[ad_1]

We use affiliate links. If you buy something through the links on this page, we may earn a commission at no cost to you. Learn more.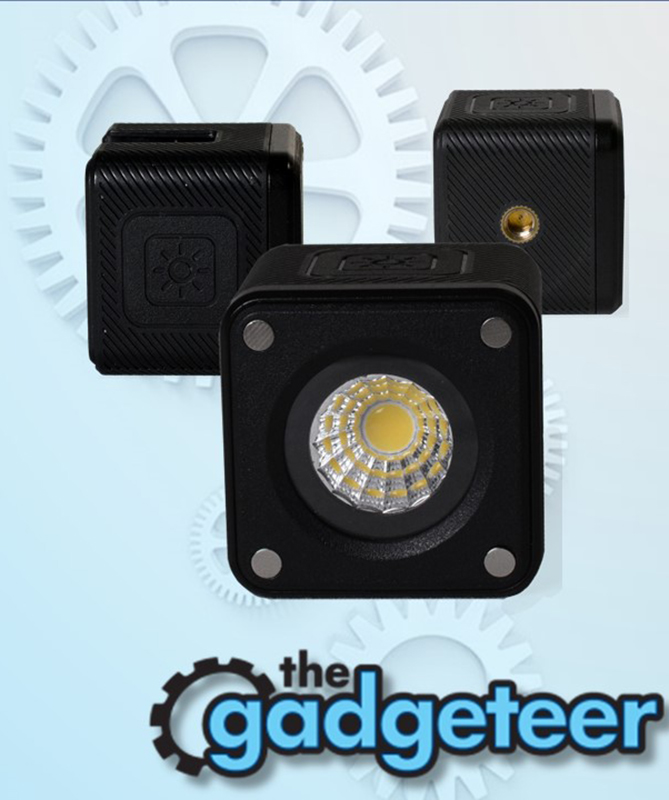 REVIEW – The Artman Cute Lite lighting kit is a great little light with tons of accessories at half the price of some competitors.
What is it?
The Artman Cute Lite is a small cube light, perfect for photography and video that doesn't break the bank.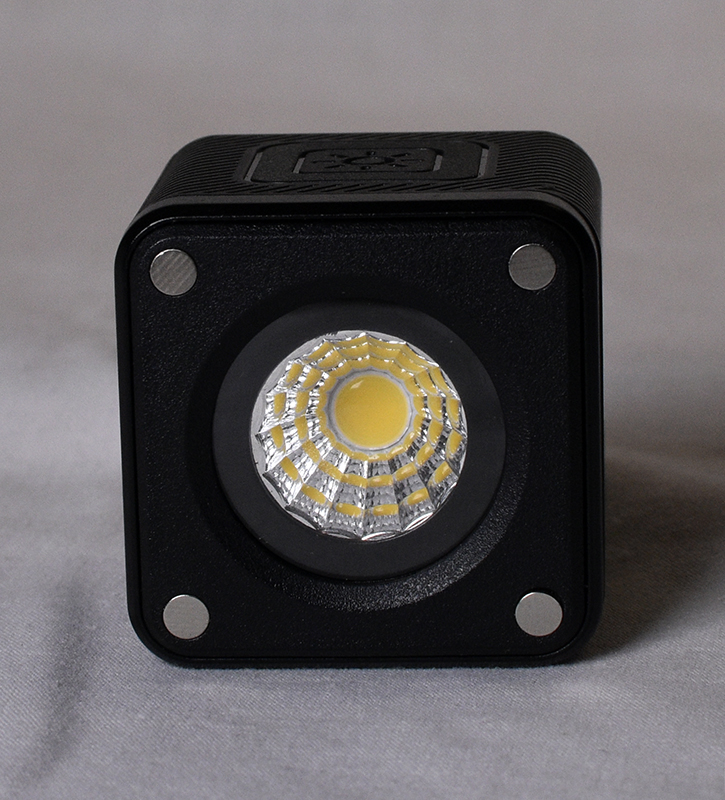 What's in the box?
Artman Cute Lite
Storage case
Snoot
Barn door
8- Color filters
Diffuser
Honeycomb
Double-head cold shoe adapter
Magnetic charging cable
Carabiner
User manual
Hardware specifications
Water resistance: IP68(diving depth 10 meters)
CRI: 95+
Color Temperature: 5500K
Illumination: 0.5m(1000Lux)/1.0m(300Lux)
Illumination Angle: 60 degrees
Battery Capacity: Lithium Battery (3.7V/800mAh)
Working Time: 1(max brightness) – 4 hours (min brightness)
Weight: 70g / 2.5 oz
Size: 41x41x38mm / 1.6×1.6×1.5 in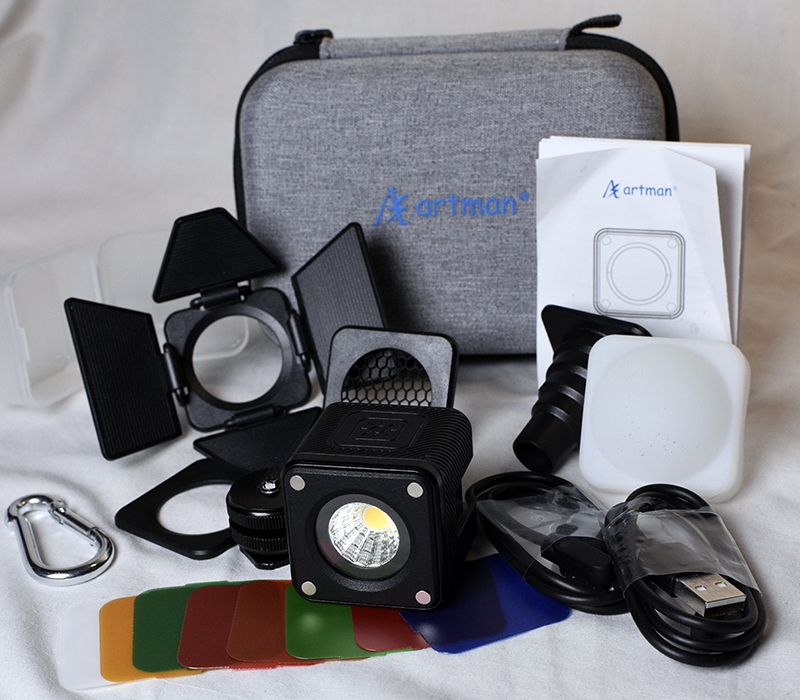 Design and features
Several years ago, I learned of an incredible lighting system called Lume Cube. The lights were as the name says a 1.5" cube. It was magnetic, rechargeable, and mountable on a tripod. I'm not a photographer or videographer by trade, but I do have to travel from time to time to client locations to get pictures of equipment and parts.  With these pictures, I make training and support materials for our technicians. Lighting conditions aren't always conducive to getting quality pictures especially when I'm an amateur photographer at best. Because these lights were tiny, I thought they would be perfect for traveling and providing consistent lighting.  Then I checked pricing. It was prohibitive, to say the least. But seeing how I've never had a problem with asking management for new equipment, I suggested them to my boss at the time.  I don't recall him laughing me out of his office, let's just say it was a no.
Flash forward to a few weeks ago, the Artman Cube Lite came available for review and I was lucky enough to snag it. Is it weird to be excited to get a cube light that's not an EDC flashlight boasting a beam that turns night into day? Maybe, but that's what I was.
Inside the box, you'll find a sturdy case that houses the light and all its accessories. It's not a Pelican-style case by any means, but it should pack nicely in a backpack, carry-on, or bag. So, score one for the Cute Lite. Inside the case, there's the light, eight color filters, barn doors, a snoot, a silicone diffuser, the cold shoe adapter, two, count'em, two charging cables, and a carabiner. With that many accessories, I had to give another point to the Cute Lite along with another for the inclusion of an extra charging cable.
Next step, charge this little guy. The charging cable is USB A to a proprietary, 2-pin, magnetic connector. There's no charger included but it only needs a 5V/1A source. I just used my USB hub to get it going. It didn't need charging out of the box, but I wanted to test the magnetic capabilities. Once the connector is in the correct orientation, it pops into place. If you'll notice, there's a pinhole on the battery icon.  That's actually the charging LED. Yes, it IS hard to see but I can overlook that. See what I did there?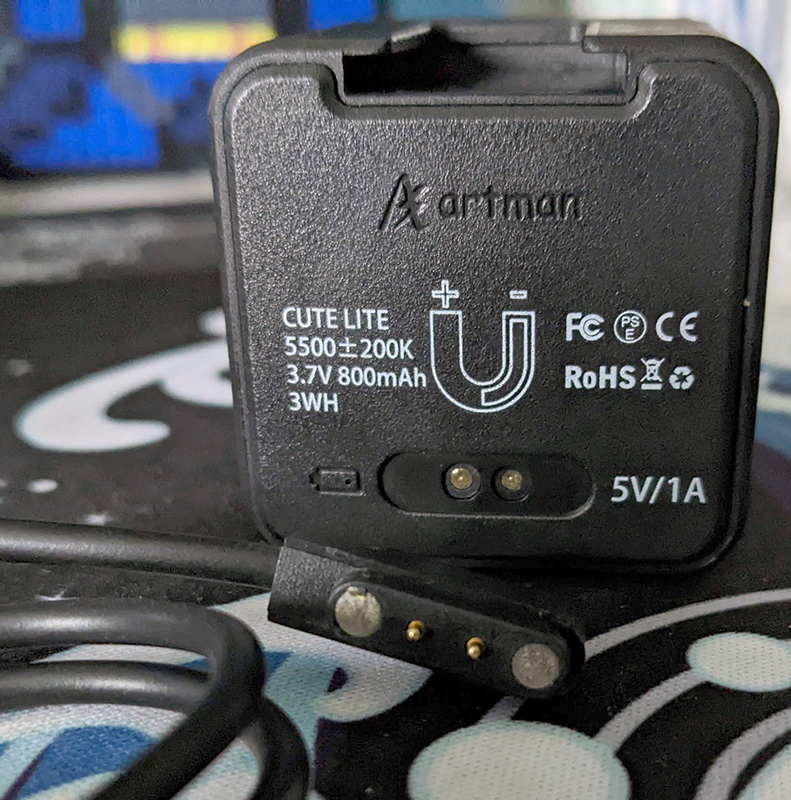 Would've it been easier to put a USB connector on the light so you could use an off-the-shelf cable? Probably, but Artman says the light is waterproof to 10 meters. With this charging method, there's no flap used to cover the port so no chance of getting water into it. Very smart in my opinion. Another point to the Cute Lite. It has an integral 800mAh lithium battery that they say provides 4 hours of use at the lowest setting and 1 hour at the highest and it can be used while charging.
Since the Artman Cute Lite is described as a video light that can be used with drones, Go-Pros, and the like, a friend of mine loaned me his Go-Pro. I wish I could say I was able to show the Cute Lite's video capabilities better. That was not the case. I didn't have a gimbal so every video I tried to make with the Go Pro was a shaky mess. I've included one I made but I can't say I'm exactly happy with the outcome. It does show the four lighting levels of the Cute Lite. I had planned to take the setup to the beach here in NW Florida, but the weather thwarted me at every turn, so I can't comment on how well it works underwater.  It does however work underwater as seen here.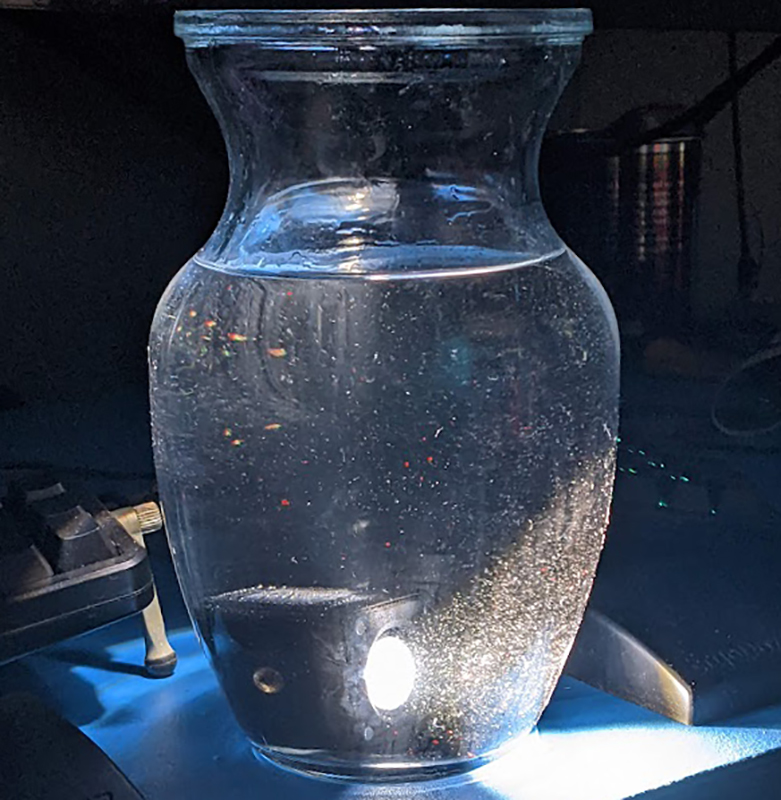 But that's not the primary reason I wanted to get my hands on the Artman Cute Lite. For my job I wanted it for its fill capabilities, and it fits in tight places. For personal reasons, I wanted to use it for macro photography. I'm just learning so an inexpensive kit is perfect for me.
Here you can see how I put the Cute Lite to use. Here's my Batman statue I received from my kiddos for father's day a few years ago. I love how dramatic the lighting looks in my attempt to get a few cool shots. The first one is with no filter of any kind.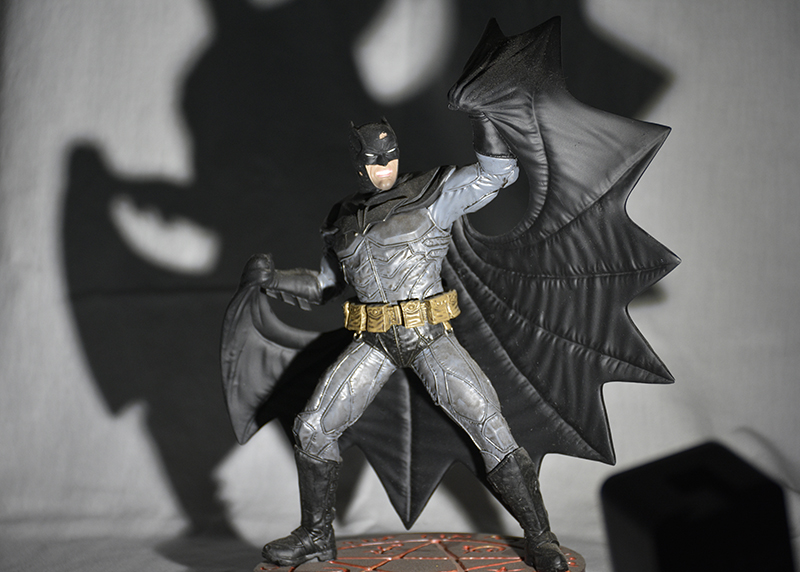 Here I used the blue filter with the magnetic gel frame. Speaking of the frames, whether the barn doors, honeycomb, or snoot, the magnets aren't the strongest so it's easy to knock them off when adjusting them. It's not a big deal, once I learned to be a little gentle when changing color filters or adjusting the barn doors it was fine.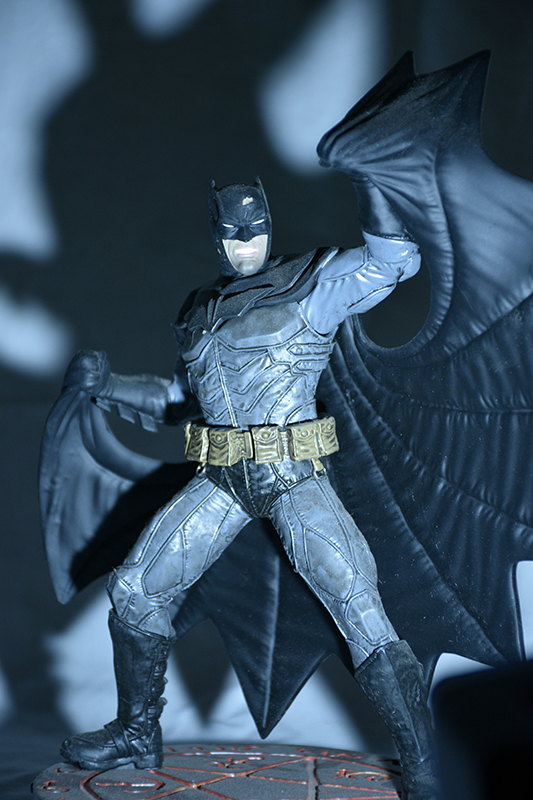 The next shots are of my toy motorcycle from Akira. Just trying out the snoot and barn door. First up, the snoot.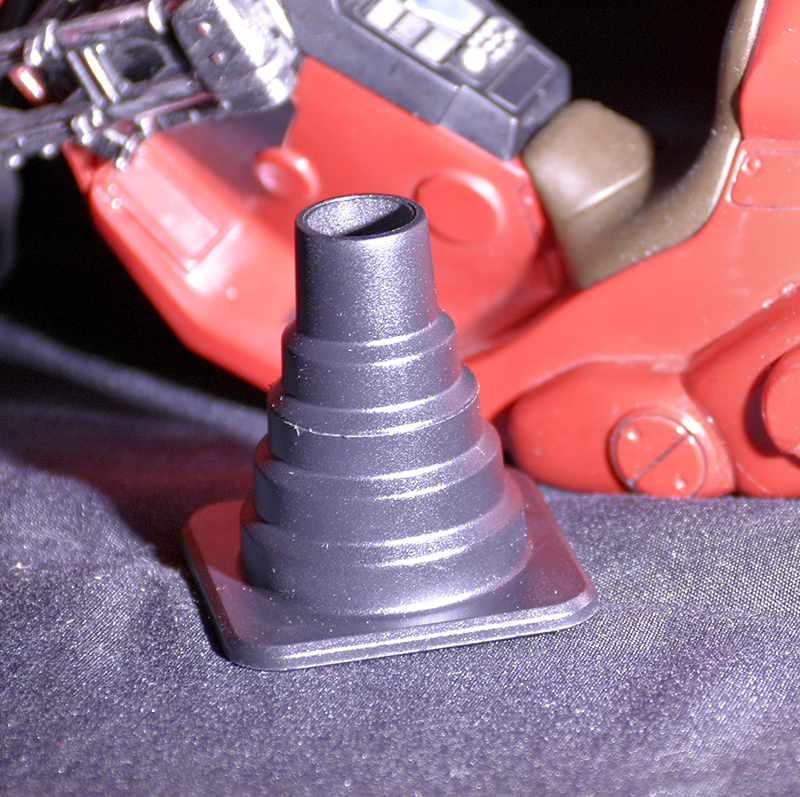 The snoot gives you a pinpoint of light.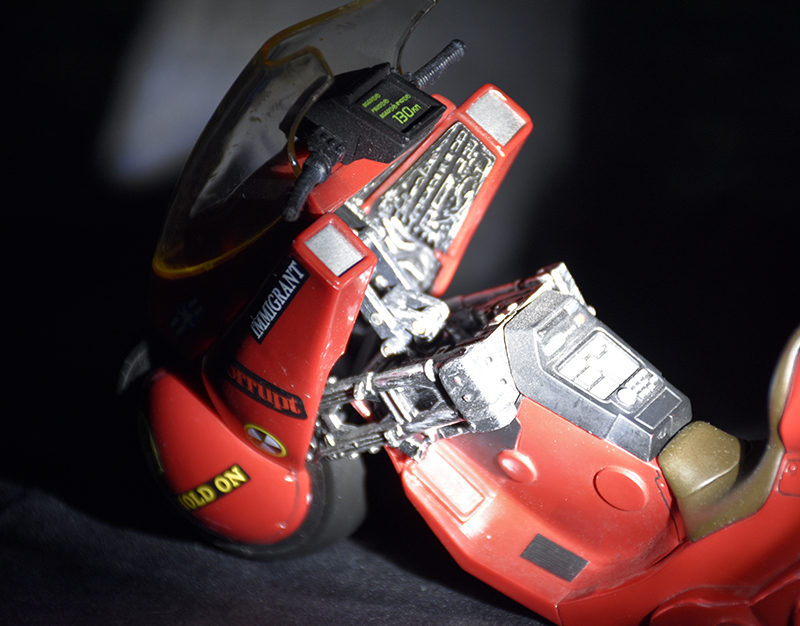 Here are the barn doors.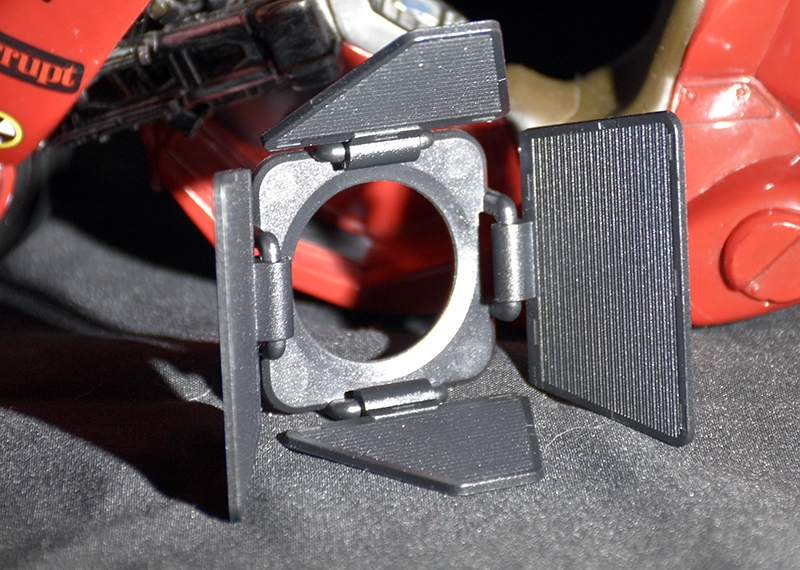 They help to shape the light.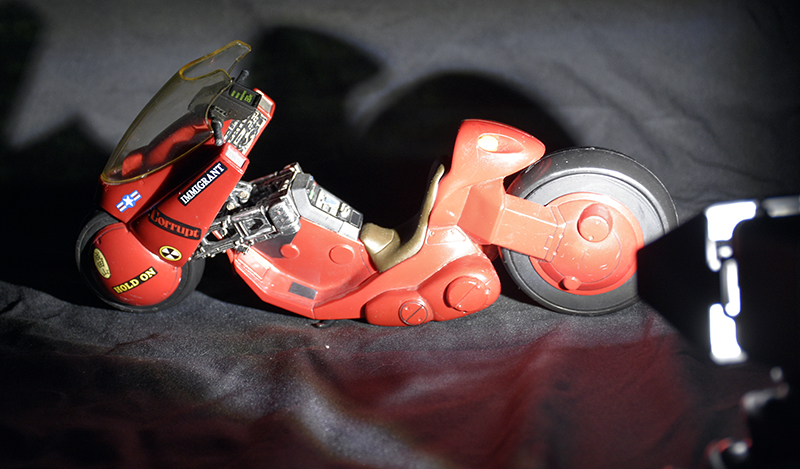 I tried a couple of things with Darth Vader here. My results varied but it was because of me. I accept all the blame. The light however was great.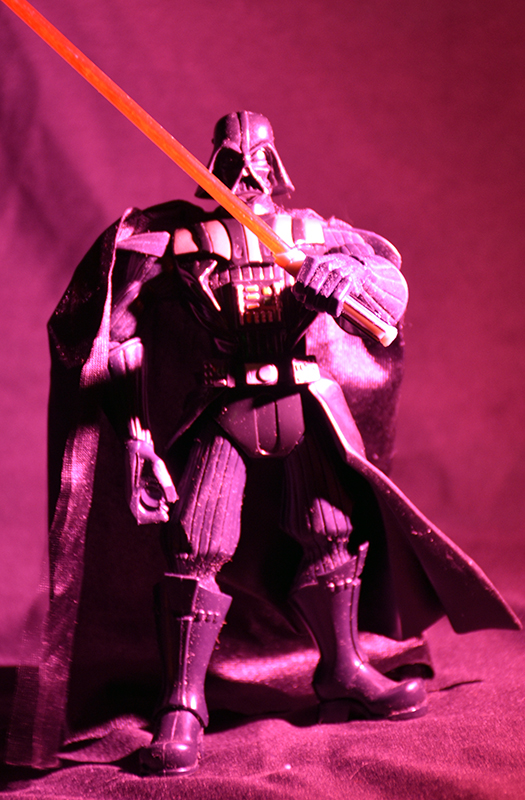 Not the greatest, but it gives you an idea of how versatile the Artman Cute Lite can be.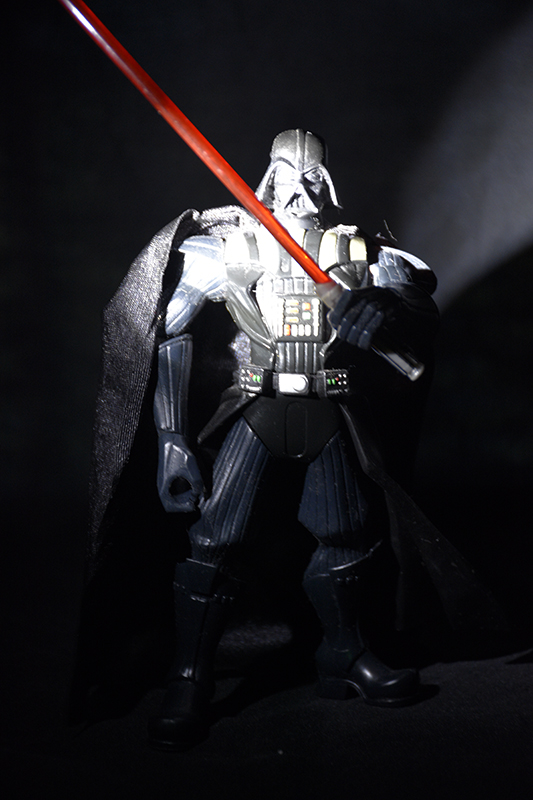 The next few shots are some I think turned out the best. This is an action figure of the Joker from the bank robbery scene in the Dark Knight. Some men just want to watch the keyboards burn.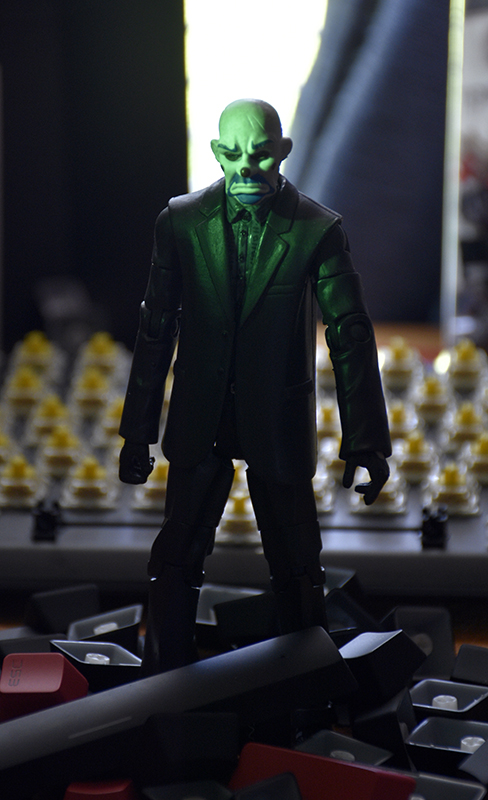 The snoot with the green color filter in action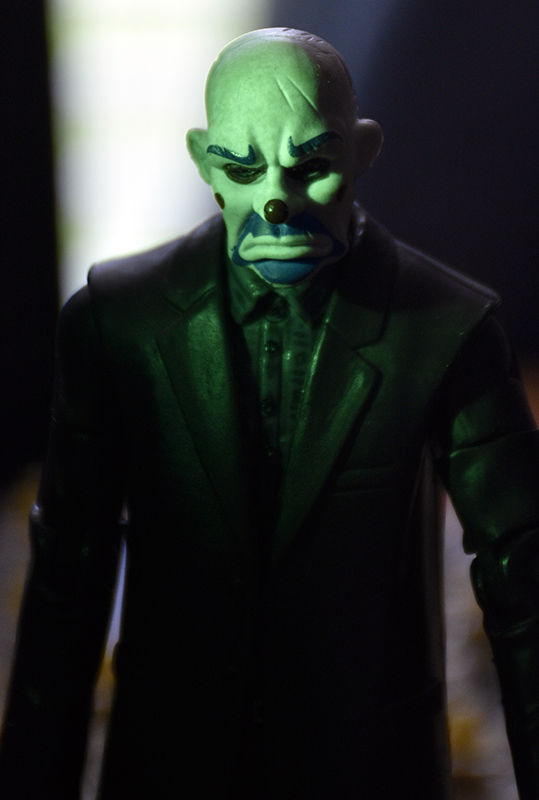 A shot of the barn doors on the Cute Lite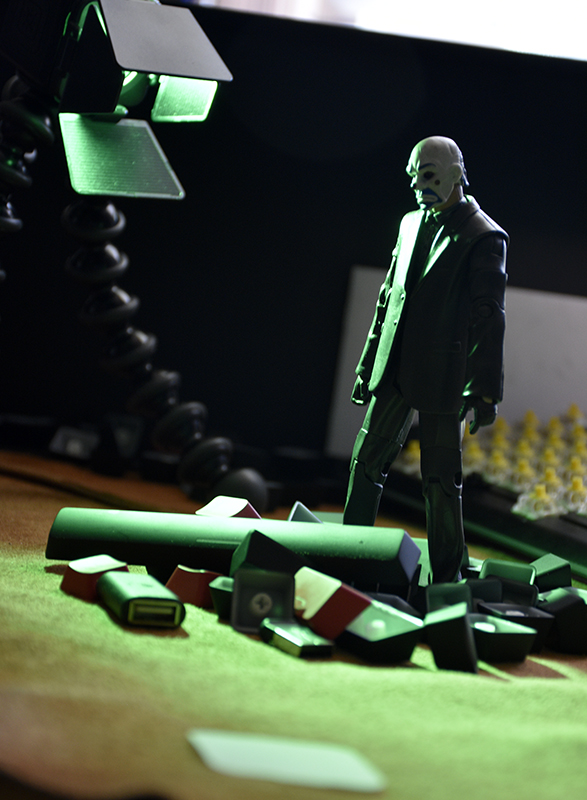 In this shot, I used the silicone diffuser which just slides over the Artman Cute Lite. The color filters can also be used in conjunction with it.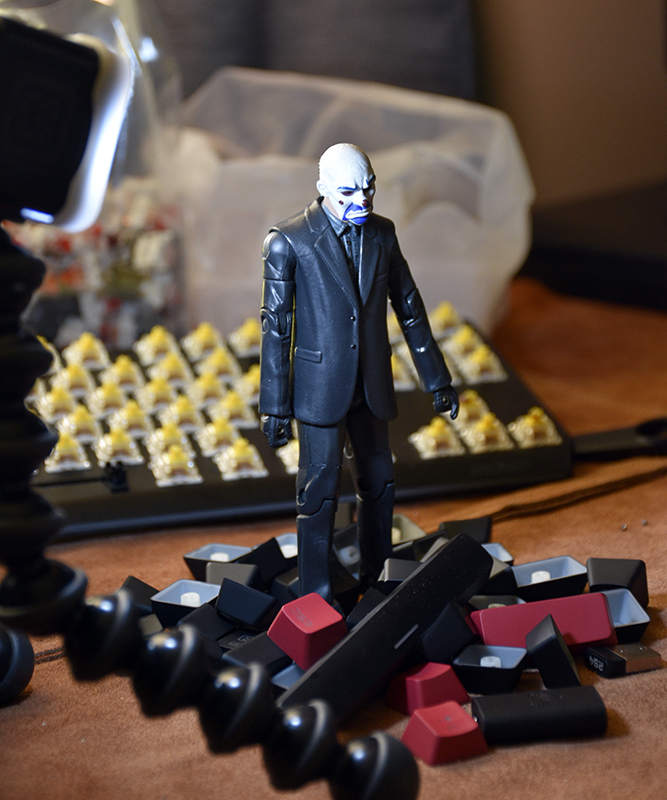 This final picture just shows the use of the cold shoe adapter on my camera. I didn't use this configuration for this review. I did however use it to take some pictures for a couple of upcoming reviews. I used the Cute Lite on my little Joby Gorillapod tripod which worked perfectly.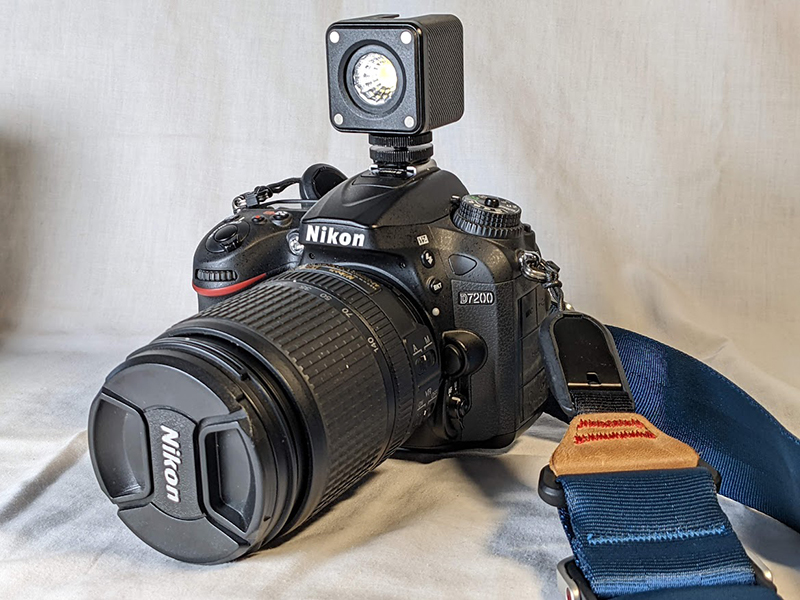 The operation of the Artman Cute Lite is very simple. Press and hold the Sun symbol for 3 seconds and it powers on at the lowest level. A single press then cycles through the other power levels. Another press and hold powers the light off. I didn't find any information on the output of each level. Artman has this in the description on Amazon for the light output. The diffused beam angle of 60º provides 1000LUX at 0.5M and 300LUX at 1M.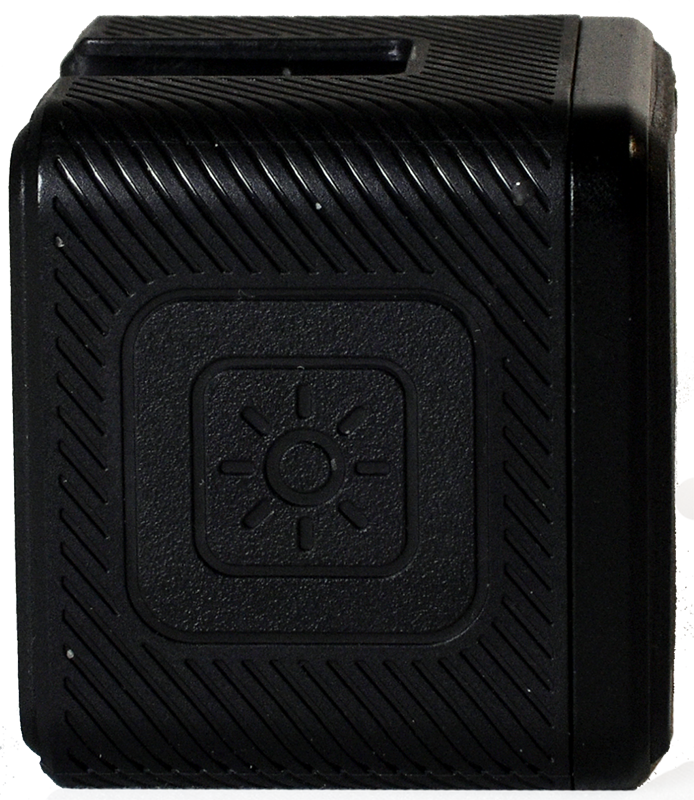 It has an IP68 waterproof and dustproof rating with what I believe to be aluminum and plastic housing. Along with the magnets on the front for the accessories, it has magnets on the rear so you can stick it on a metal surface.  That surface will have to be flat though.  They aren't strong enough to keep the light in place on curved surfaces unless the radius is pretty big. The best feature though is the price of $35.99. That's less than half of the current Lume Cube and it comes with many more accessories.  The Cute Lite comes with a 1-year warranty and a 30-day money-back guarantee. Plus, you can get it through Amazon so returns shouldn't be an issue if you get it and decide it's not for you.
There's not much I don't like about the Artman Cute Lite. I had a problem with using the cold shoe adapter because of my big hands. I guess it could be bigger to help alleviate that problem. I believe the light would benefit from stronger magnets so the accessories held better, and the light could stick to more surfaces. The only other issue I had was the tripod connection. It fit my other two just fine, but I had to crank it down to get it on my small Gorillapod. I didn't damage anything, but it was worrying at first.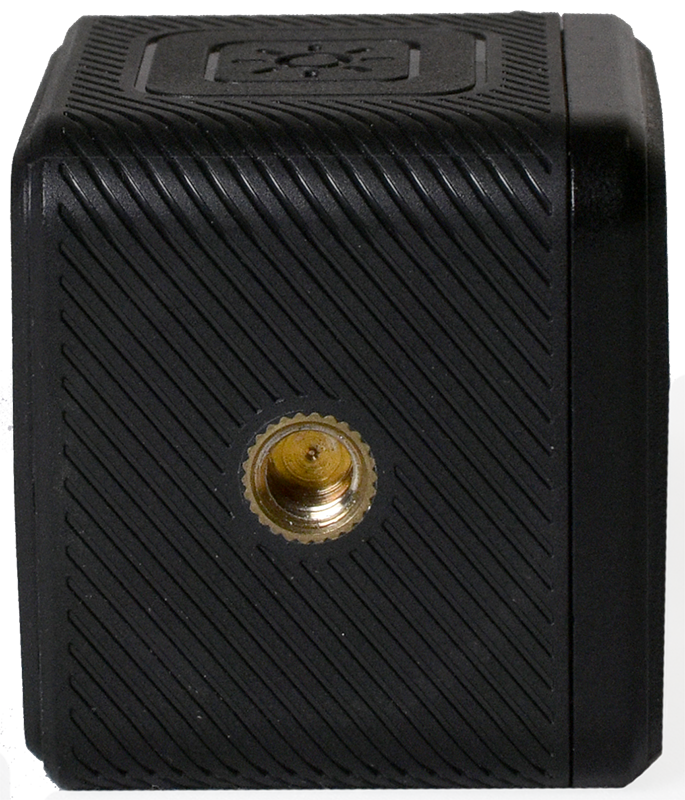 Check out the video below. Warning! Shakiness ahead!
See it in action
What I like
The price
Rugged build
The case with the included accessories and 2 charging cables
Multiple lighting modes
Versatility
What I'd change
A bigger/better cold shoe adapter
Strength of the magnets
Final Thoughts
I really like the Artman Cute Lite.  It's versatile, rugged, and fun to use. I want a few more and at this price, I can have them. If you're into macro photography, I think they would make a great addition to your kit. I wish I could comment more on its video capabilities, but if you're in the market for something like this, it won't break the bank to give the Cute Lite a shot.
Price: $30.99
Where to buy: Amazon
Source: The review sample was provided by Artman