So, you have created your fancy email from scratch, worked on design, text, media files, and put a lot of effort into it. Now you need your audience to see this beauty in their inboxes. 
It is very important to us that the emails you create with Stripo can be easily and quickly delivered to the place you need them (ESP, mailer, anywhere via Webhook & Zapier). That is why Stripo has such a huge range of integration options, which we'll discuss in this article.
Types of export options
Business requirements for email exports are quite broad. As a result, companies need a fairly large list of export options, such as:
Export to ESPs.

Export to email clients — Gmail and Outlook.

Export through Webhook and Zapier.

Downloading your email as AMP HTML or traditional HTML

Downloading your email to your device as JPG, PNG, PDF, and so on.
We will discuss all of the above methods in detail.
1. Export to ESPs
There are dozens, if not hundreds, of different ESPs in the industry that help businesses send out emails to their audiences on a daily basis. And every business wants that the template created in other tools can be seamlessly pushed to the ESP of their choice.
Given that, in most cases, you need to set up the code of the email in your ESP after exporting it, most businesses doubt whether they should use an individual email editor.
Pros of Stripo's integration with various ESPs



Integration with a number of different ESPs
Stripo supports over 71 Email Service Providers. However, this list will continue to grow. We carefully study the requests of customers and replenish the list of supported ESPs.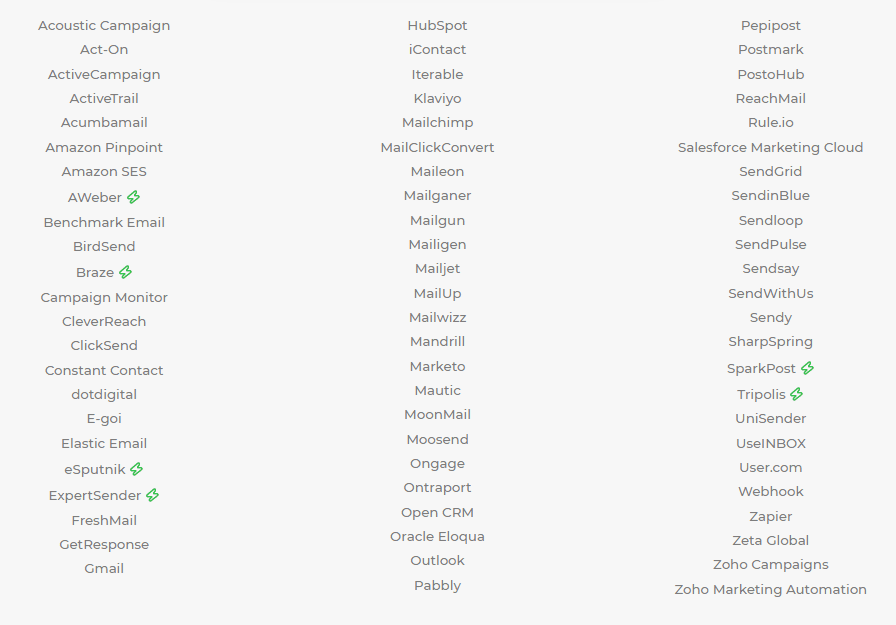 Didn't find your ESP on our list? Write to us about it, and our support specialists will help you export the email to your tool.
Email us



Clean code
All the templates that you build with Stripo have clean code without service symbols that may conflict with any ESPs. This means you will not set up the code of your email template after export.



All templates are editable after export
All email templates can be edited after export in several ways:
via WYSIWYG editors built into ESPs;

code editors that allow users to tweak texts, colors, image links, and so on.
For example, if you export a template to Mailchimp, you can tweak it using the platform's built-in code editor.

You can see how easy it is to export an email to ESP (we used Mailchimp as an example).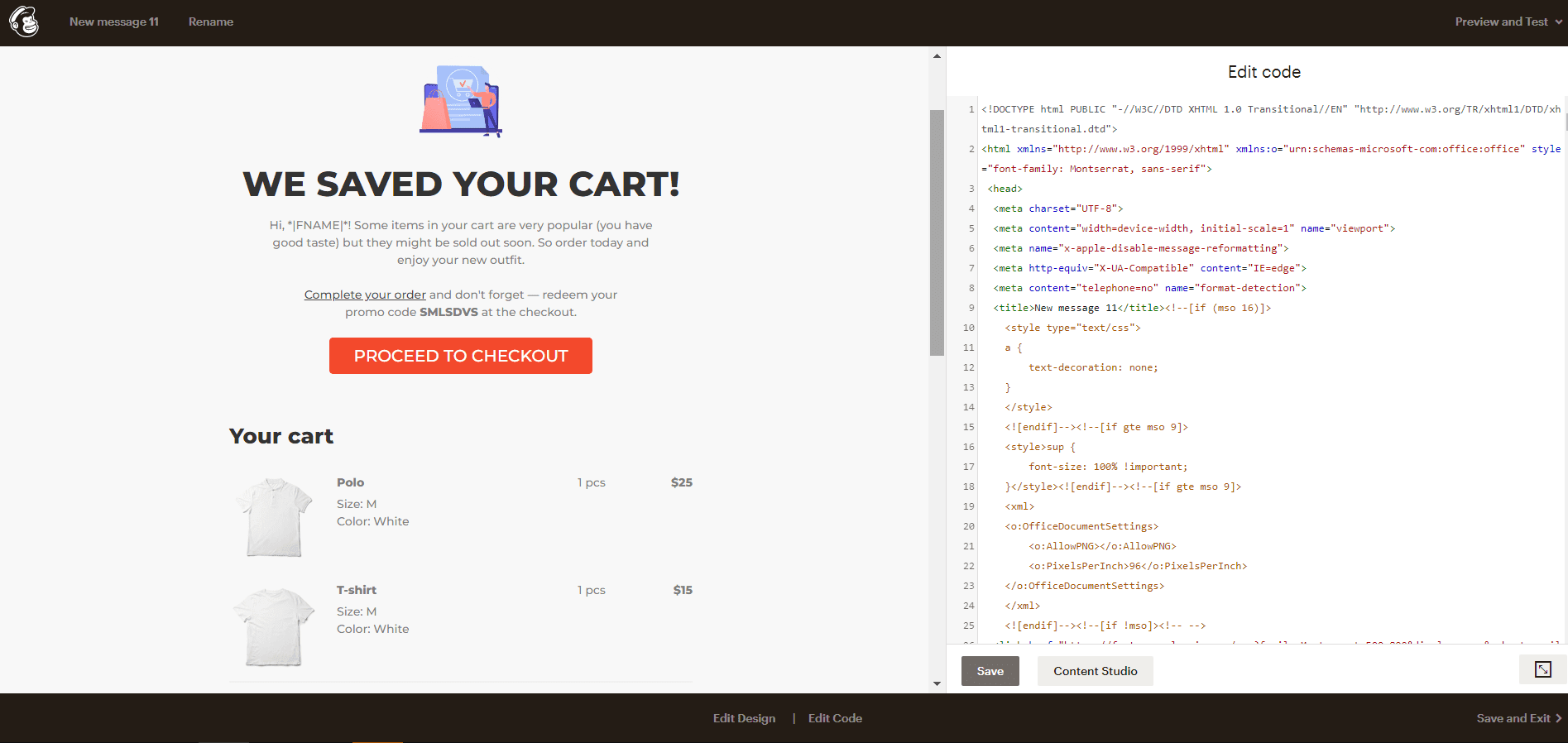 Bulk export
It is also worth noting the option of Bulk export. Imagine you have made some beautiful templates that will be the main part of your email campaign. However, now you need to push all of them to your ESP. You might think that you now need to export each template individually by repeating the same steps.
Perhaps it would be in a parallel universe, but in ours, we took care of saving your time and provided the opportunity to make bulk exports. This is done in just a few clicks. You just need to select the templates created in Stripo and push them to your ESP. Voila, all your created templates are already in your ESP.
In addition, if you send templates in this way with the same names as templates that are already in the ESP, Stripo will prompt you to replace the old emails with new ones.
This export type works with all options, including export as an image, AMP HTML file, and so on (we will talk about these types of export a bit later in this article).



Different export options
We provide several options for exporting email messages to your ESP, namely: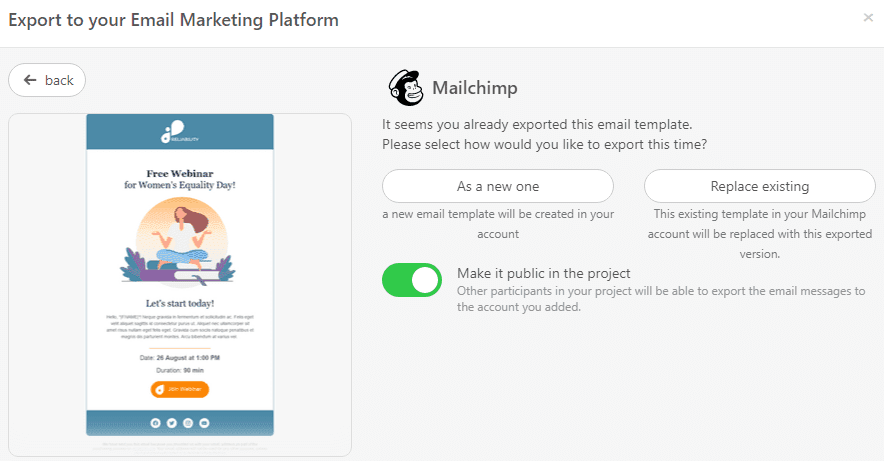 It is worth mentioning that some ESPs even allow us to replace an email message with a new one in an active email workflow (aka scenario), as Mailchimp does. While others only will enable us to replace existing email messages in inactive workflows or place these messages in dedicated folders. Yet, marketers will manually include the new email message in an active workflow.
2. Export to email clients — Gmail and Outlook
Export email messages/templates to Gmail and Outlook. This option is extremely popular among our users due to the popularity of email clients. According to a recent Litmus summary, the share for these email clients is:
Gmail: 27.4%;

Outlook: 4.3%.
Stripo has a convenient and fast way to export emails directly to the email client you are using. Fortunately, the exported templates are editable; you can change the text, pictures, delete and add the necessary elements directly in the email client.
For example, the export process to Gmail looks like this:
click the "Export" button above the template area;

in the pop-up window, choose Gmail;

enter your Gmail credentials (Stripo will not have access to your account, only draft emails. We pass the Bishop Fox Security Test every year so you may rest assured — your privacy is well protected);

find your email in the Drafts folder in the featured email client.
Your Outlook emails can be exported to Windows, macOS, and even the web version, which greatly expands the export options and provides more convenience to the user.
Export your emails to Gmail and Outlook with us
Get started
3. Export through Webhook and Zapier
These services allow you to export emails to any marketing automation platform using webhooks. In the meantime, webhooks themselves (or reverse APIs) are dedicated tools that allow a system or application to receive notifications about various events in another system or application in real-time.
Stripo has direct integration with the popular webhooks Zapier and Webhook. We have convenient and detailed manuals for integrating your emails into these webhooks:
4. Downloading your email as AMP HTML or traditional HTML
The ability to export a standard email HTML file is a much-needed option for our users because:
there are cases when there is no direct integration with the client's ESP in Stripo yet;

various marketing agencies work with our email design platform and email HTML code export is one of the requirements.
HTML file
We provide several HTML export options so you can choose the one that suits your needs:
HTML file — download the HTML file and use it in your ESP, however the images will be hosted on the Stripo servers;

archive — download the archive with the HTML file and all the images used in the template;

HTML code — see and copy the code of your email to the clipboard.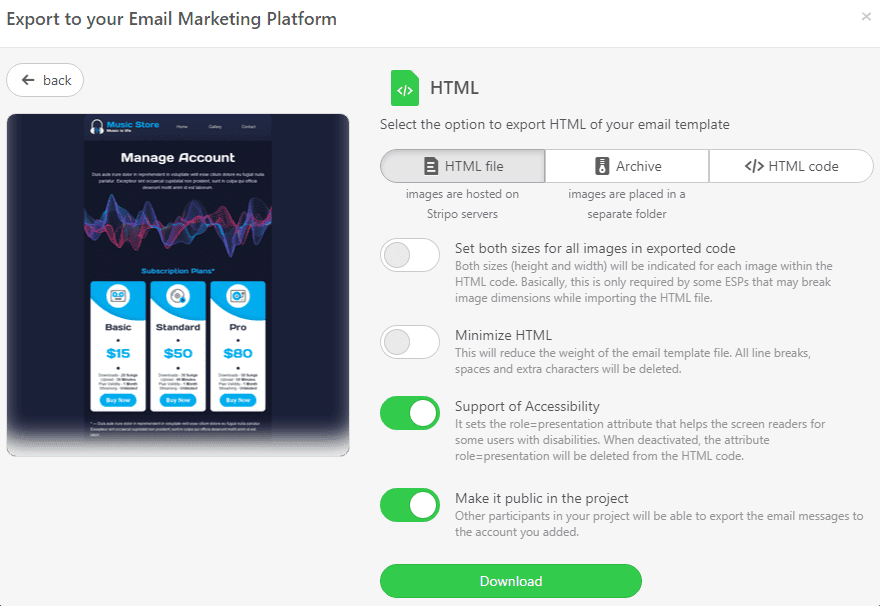 AMP HTML file
Besides that, we also have an AMP HTML export option. Why do you need it? For example, if your ESP has support for AMP, but we have not enabled direct export of AMP emails yet, then you will most likely want to download a separate AMP HTML file and open it in your ESP to work on it later. 
5. Downloading your email to your device as JPG, PNG, PDF, and so on
We decided to single out the export of templates to various file formats, which at first glance may not seem very necessary for the user. Like, who wants to export their HTML email as an image?
In fact, this feature is quite a demand, and we added it at the request of users. For example, 9% of our users export their emails as PDF files.
We conducted surveys and talked with our clients, and the whole secret turned out to be that such an export format is needed to validate email design. They find it more convenient to look at the whole email picture. Plus, they often draw with arrows, leave comments, and draw on various elements, thereby giving a clearer understanding of which parts of the email need to be improved.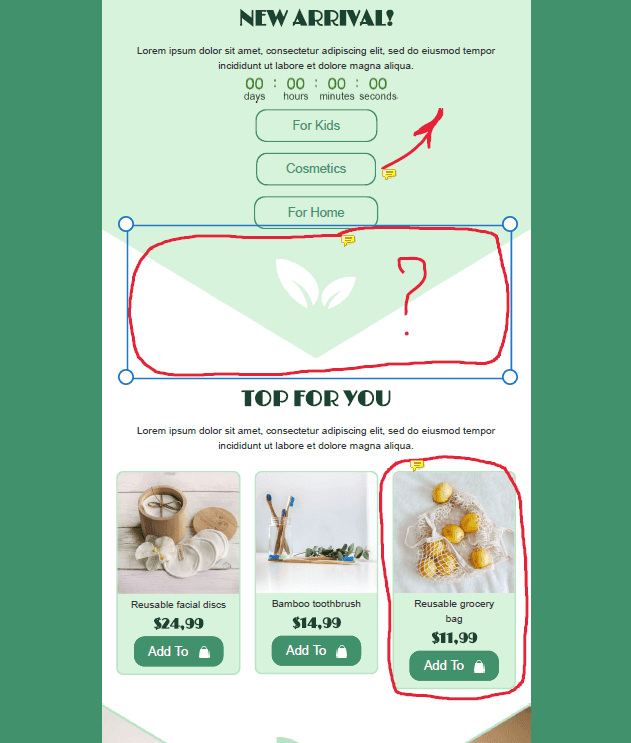 Wrapping up
Email export is an indispensable feature that allows you to save valuable time when creating email campaigns. Throughout your work, you will be faced with the need to transfer emails from the editor to the marketing automation system, and Stripo made sure that this process is simple and does not require technical knowledge.
Try all export options by creating your own email in Stripo