We use affiliate links. If you buy something through the links on this page, we may earn a commission at no cost to you. Learn more.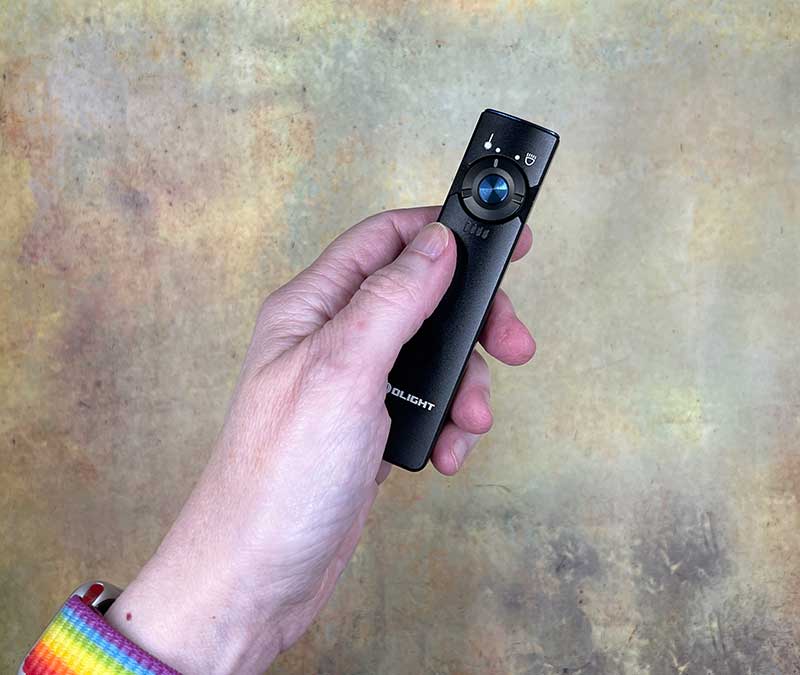 REVIEW – We've done a lot of Olight reviews over the years and I have always been impressed with their products. Their newest item which I'm showing you today is the Olight Arkfeld flashlight. Let's see why it's my cat Ozzy's favorite flashlight.
What is it?
The Olight Arkfeld is an LED flashlight that is available in two color temps: Neutral White LED (4000k~5000K) or High-Performance Cool White LED (5700K~6700K). This flashlight also has a built-in laser pointer function.
What's in the box?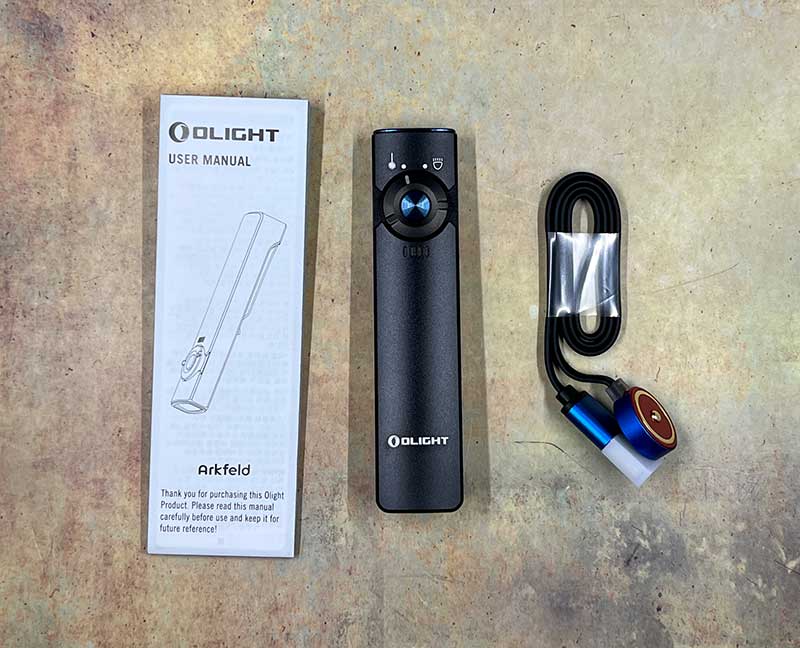 Olight Arkfeld flashlight
Magnetic charger
User manual
Flashlight specs
Light Source – High-Performance Neutral White LED (4000k~5000K) or High-Performance Cool White LED (5700K~6700K)
Maximum lumens – 1,000
Light Intensity (candela) – 2,560
LEVEL 1 (lumens) – 1,000~300
Run-time LEVEL 1 – 4+110 minutes
LEVEL 2 (lumens) – 300~60
Run-time LEVEL 2 – 126+34 minutes
LEVEL 3 (lumens) – 60
Run-time LEVEL 3 – 11 hours +50 minutes
LEVEL 4 (lumens) – 15
Run-time LEVEL 4 – 41 hours
LEVEL 5 (lumens) – 1
Run-time LEVEL 5 – 8 days
Strobe – Yes
SOS/Beacon – No
Beam Distance – 331ft / 101m
Mode Operation – Central button and selector
Charge type – MCC3 Magnetic USB Charging Cable
Compatible Batteries – 1050 Rechargeable Lithium Polymer Battery
Waterproof – IPX7
Weight – 3.07 oz / 87 g
Length – 4.33 in / 110 mm
Width – 0.98 in / 24 mm
Height – 0.59 in / 11 mm
Design and features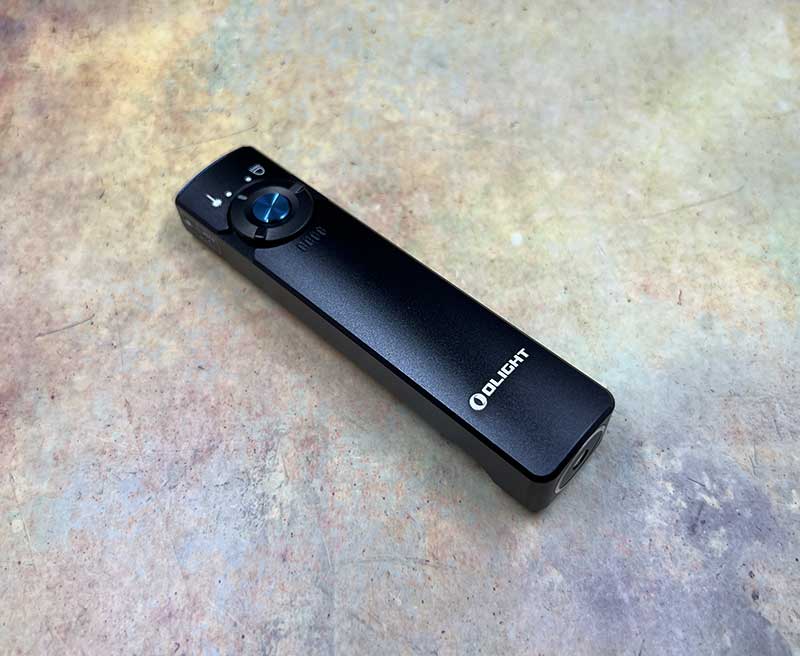 Like other Olight flashlights that I've reviewed in the past, the Olight Arkfeld has an aluminum alloy body. This particular flashlight is available in Black (shown here), OD Green, Desert Tan, and Blue.
Instead of a round shape, the Arkfeld is flat and rectangular. The top surface has the controls and the Olight logo.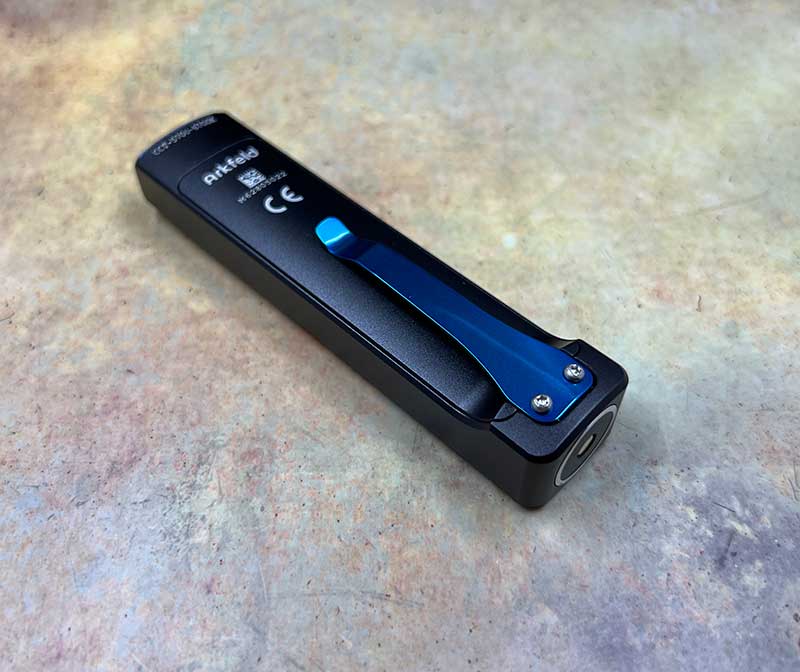 Flip the Olight Arkfeld over on its back and you'll find the pocket clip.

The side view gives you a better idea of the unique shape of this light.

The sides are slightly beveled to add to the comfortable grip.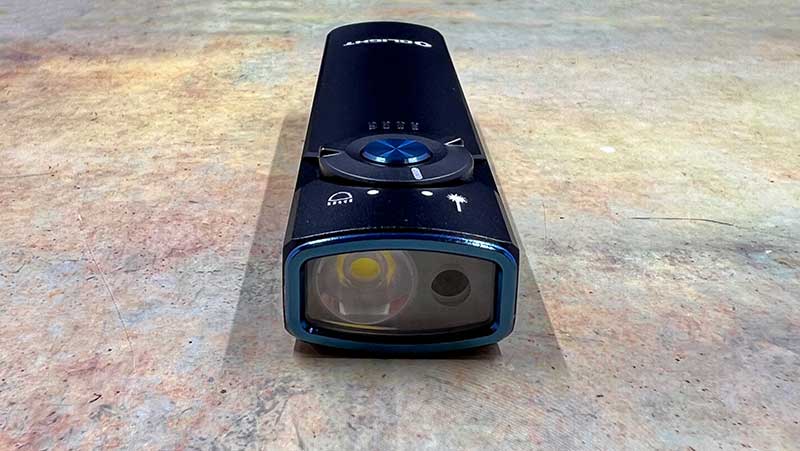 The business end of the light has a contrasting ring around the light's bezel.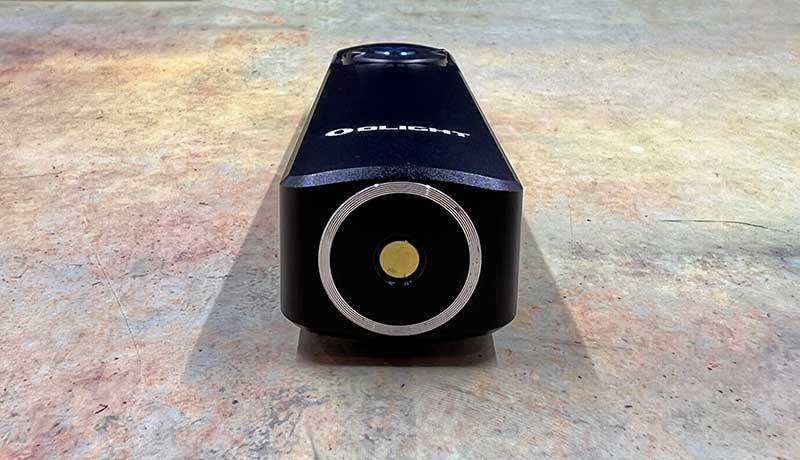 And the butt of the flashlight has Olight's magnetic charging base. Fun fact: You can use this magnetic base to attach the light to the underside of your vehicle's hood or any steel surface to turn it into a pseudo handsfree worklight.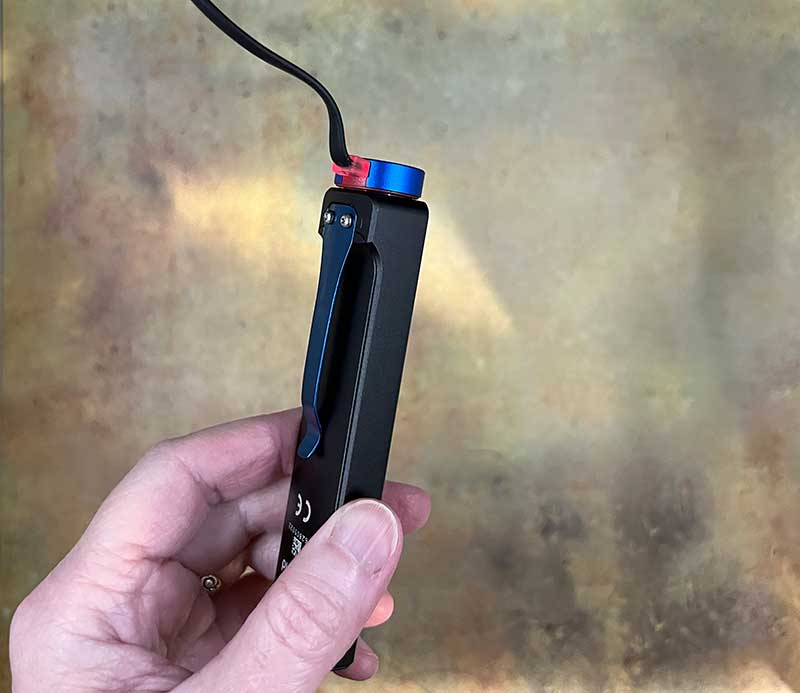 The included magnetic USB charger has an LED that glows red while charging and turns green when fully charged.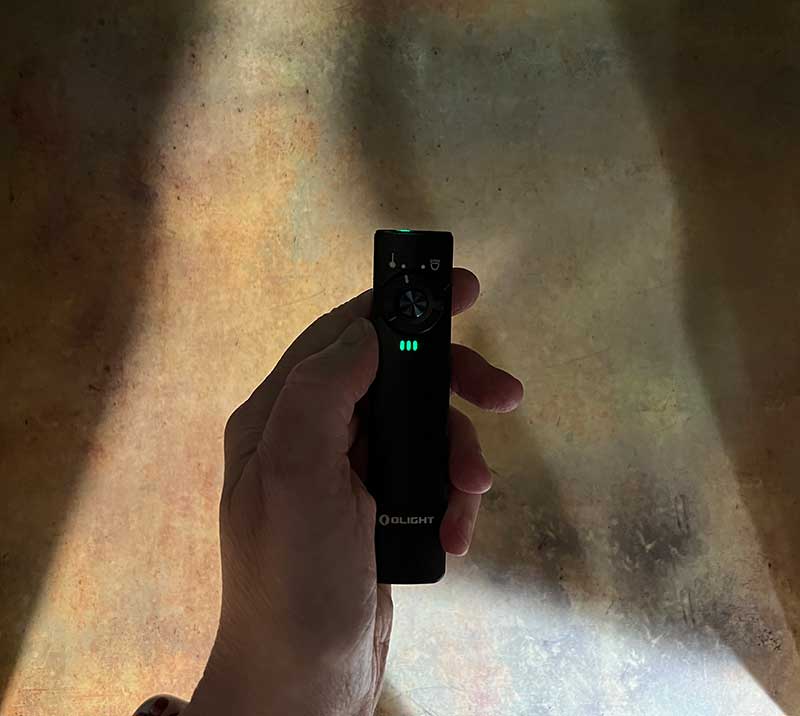 When you turn on the flashlight or laser pointer, you'll see a row of 5 battery level LEDs below the selector switch at the head of the flashlight. In the image above, my light had a 50% – 75% battery level.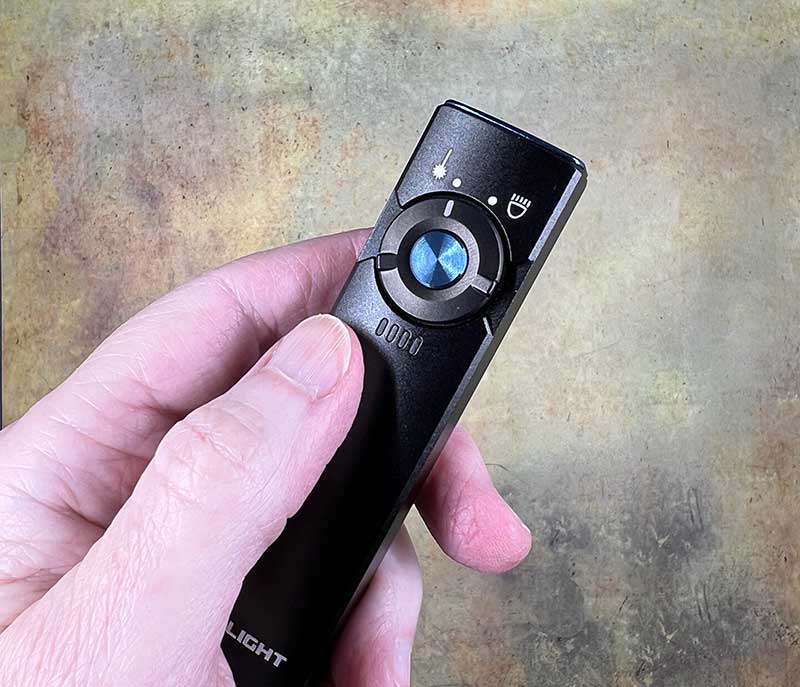 The power button and selector switch are easy to activate with your thumb while holding the Olight Arkfeld flashlight. The selector switch has 2 positions. It's either set to laser mode or flashlight mode.
The center button toggles the laser on and off and in flashlight mode, it toggles the flashlight on and off when pressed once. If you hold the button down while in flashlight mode, it will cycle through low, medium, and high brightness levels. To activate turbo mode (1000 lumens) you have to double-click the center button, to activate strobe mode, you triple-click the center button, and to activate moonlight mode, you hold down the center button when the flashlight is off. A single click deactivates the turbo or strobe modes.
Note that the Olight Arkfeld will remember the last mode (except for Turbo and Strobe) and will revert to that mode the next time you turn on the light.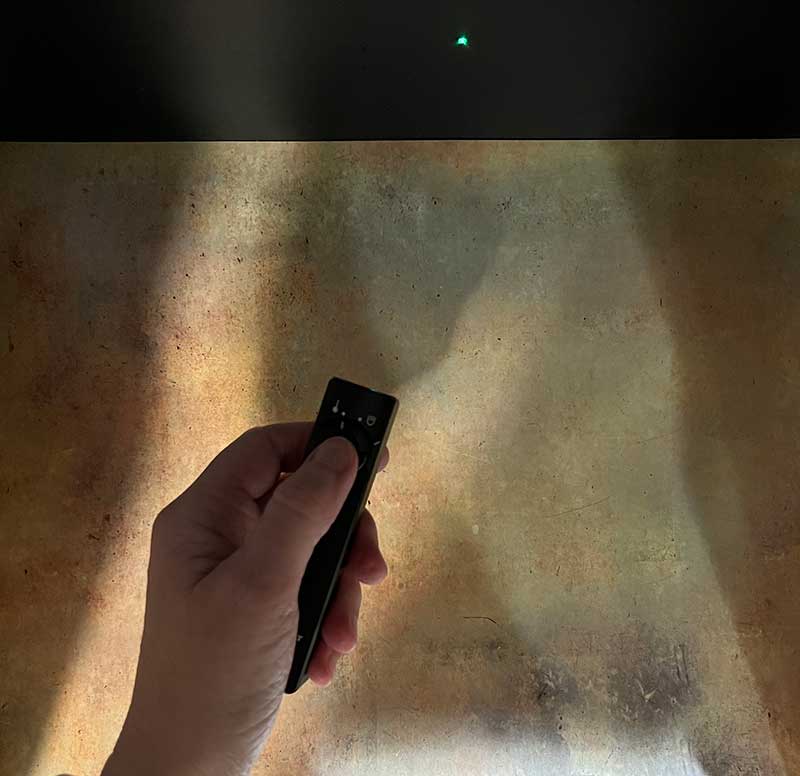 The Olight Arkfeld flashlight can also be used as a laser pointer. Just set the selector to laser and press the center button to turn on the green laser. Press the button again to turn off the laser. The laser is great for meetings or if you have a cat as I do, it makes for a fun chase toy for him (and me since I don't have to run around and can just point it at the floor). Just don't shine the laser in your kitty's eyes or make the laser the only toy you use as it doesn't give the cat anything to actually "catch".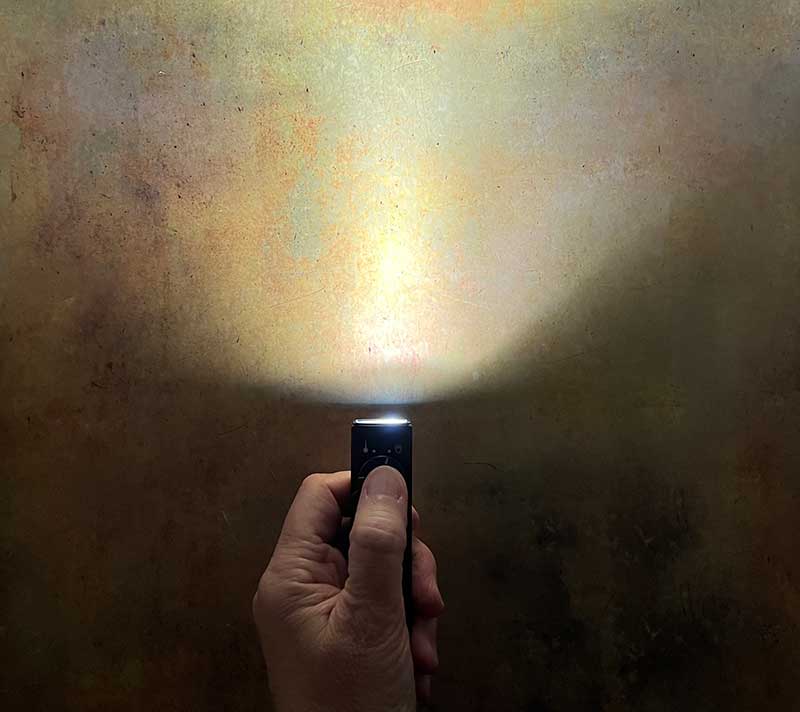 Back to the flashlight! Let's check out some pics showing the brightness modes.
You can click the images above to see a larger image. The pictures were all taken with an iPhone 13 Pro Max in my basement at about 9pm. Even the lowest lumens mode – Moonlight was able to light up the room enough that I could find my way around.
What I like
Available in 2 color temperature versions
Built-in laser pointer
Easy-to-use controls
Rechargeable battery
What I'd change
Final thoughts
Olight hasn't disappointed me in the past and the Arkfeld flashlight hasn't changed that. This small light combines easy-to-use controls, with handy rechargeability.  With a max of 1000 lumens, this light packs a punch and the built-in laser makes it a handy tool for meetings too. Oh, and the laser is a great way to keep cats busy! 😉
Price: $89.99 but currently on sale for $67.49 through 8/12/22.
Where to buy: Olight
Source: The sample for this review was provided by Olight.