Tronsmart Bang SE Portable Bluetooth Speaker Review Rating

Summary
The Tronsmart Bang SE is generally a good speaker and represents good value for money when compared to the rest of the market. I just wouldn't buy it over the Bang Mini
Pros
Compared to other brands, it is a lot of speaker for the money
Decent enough sound quality for the price
Flashing lights for a party atmosphere?
Cons
Lacks bass
Too close in RRP to the superior Bang Mini (and actually more expensive at current retail prices)
I have previously reviewed the Tronsmart T7 and the Bang Mini portable speakers, and I was pleasantly surprised with both of them. They may not be able to compete with the likes of Anker Soudncore or premium brands, the sound quality is not the most refined, but you get a good bang for your buck.
The Tronsmart Bang SE is the latest iteration of the Bang series.
Tronsmart Bang SE vs Bang Mini
Tronsmart
Bang SE
Bang Mini
Bang 60W
Bluetooth
5.3
5.3
5
Bluetooth Compatibility
HSP / HFP / A2DP /AVRCP
HSP / HFP / A2DP /AVRCP
A2DP/AVRCP/HFP/HSP
Codec
SBC
SBC
SBC
Transmission Distance
15m/49ft (Open Area)
Up to 15m/49ft (open area)
18m/59ft
IP Rating
IPX6
IPX6
IPX6
Power
40W
50W
60W
Input
5V/2A, via Type-C Port
5V/2A, via Type-C port
5V/2A via Type-C Port
Frequency Range
60Hz – 20kHz
65Hz – 20kHz
20Hz-20KHz
Battery Capacity
7,4v/4000mAh
10800mAh
Playtime
Up to 24 Hours(Varied by Light Display)
Up to 15 Hours(LED Off)
Up to 13 Hours(LED On)
Party Mode On: 4 Hours(100% Volume with LED On)
Party Mode Off: Up to 15 Hours(Varied by Volume Level & Audio Contents)
Charging Time
4 Hours
4.5 Hours
Dimension
334 x 192 x 164mm
302 x 125 x 173mm
361 x 183.4 x 150.3 mm
Weight
2.10kg/4.63lbs
2.37kg
3.08kg
In Use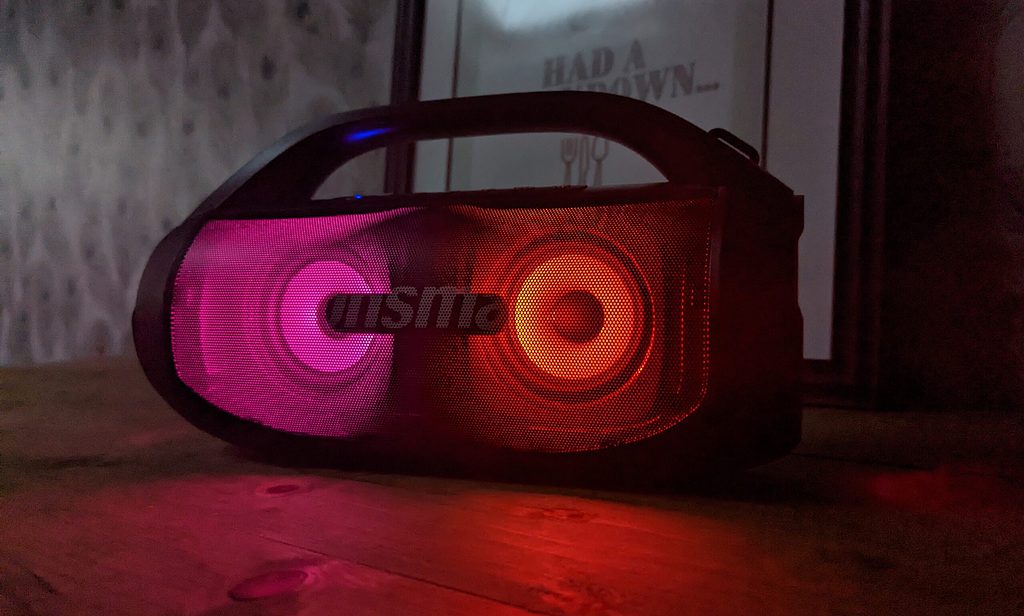 The sound quality of the Bang SE is OK, if I hadn't reviewed the Bang Mini, I might be more impressed. Tronsmart describes the sound as bright compared to the deep bass of the Mini, and I would say this is probably about right. It is bright due to the lack of bass.
It can go loud, but due to that lack of bass, it starts to sound very sharp. Turning the volume up to max, it becomes a bit unpleasant.
I found that face-on with the speaker on my wooden table, it sounded a bit rough. But placing it a bit further away on a softer surface took out some of the sharpness and allowed the bass to come through a bit better.
At moderate volume levels, it is a perfectly adequate speaker. Listening to house music, it can produce some OK bass, it is not awful or anything, it just can't compete with the superior Bang Mini.  
For other genres of music, it works well, it is not as refined as other premium speakers, but I can't really complain, considering the low price point of this.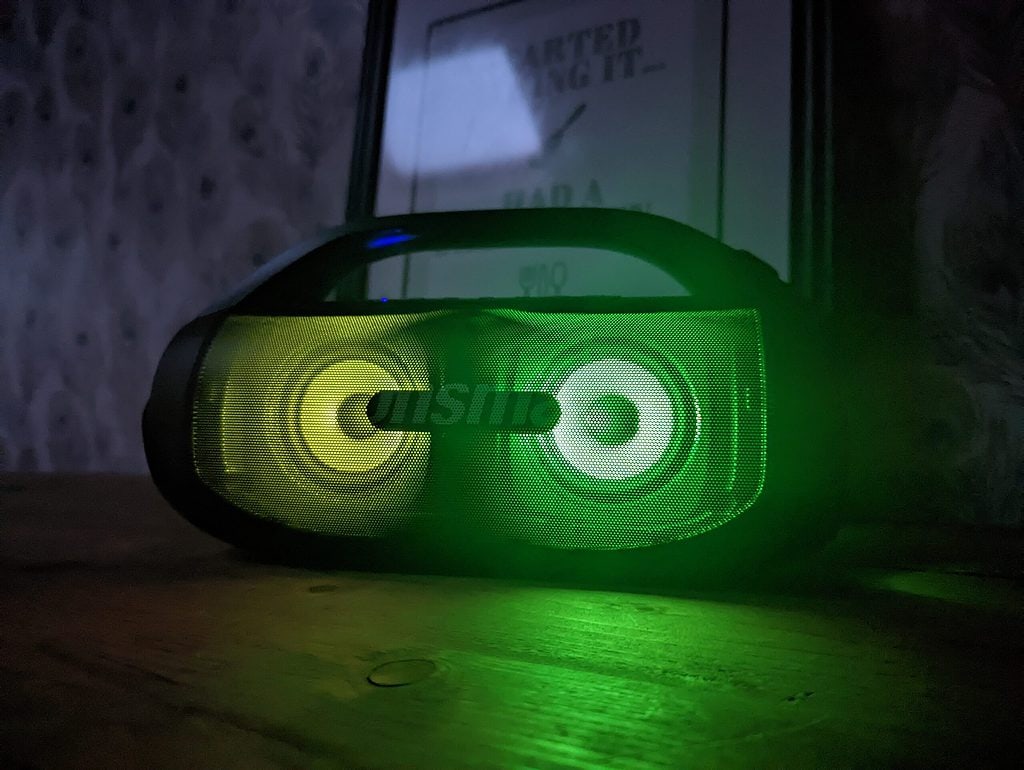 This has the addition of front flashing lights, which appear to come from the speaker's diaphragm. If you are into that kind of thing, then it gives a decent party atmosphere. Ironically, I would have thought the party-like features would be better suited to a more powerful speaker like the other two Bang speakers.
Price and Alternative Options
The Tronsmart Bang SE is listed on Amazon with an RRP of  £70, and it has no discounts yet.
The Tronsmart Bang Mini is available for £64 with an RRP of £80.
The larger Tronsmart Bang has an RRP of £120, but is available for £90
Overall
Looking at the Tronsmart Bang SE by itself, it's a good speaker that is well-priced. There are few other brands on the market that offer such a powerful speaker at such a low price point.
However, unless you particularly want the additional flashing LEDs or the smaller size, you would be better off with the Tronsmart Bang Mini, which is a superior speaker in general, and priced cheaper (currently).
Personally, I'd say the Tronsmart Bang SE needs to be at least £10 cheaper than the Mini for it to be worth considering. That is the case with the normal RRP, but even then, I think I'd still prefer the Mini.
The affordable nature of this and the flashing lights probably make it well-suited for a gift for a young person (I will be palming it off on my little sister).
Last update on 2022-12-12 / Affiliate links / Images from Amazon Product Advertising API