[ad_1]

Marketing experts use vanity domains to transform simple links into powerful branding tools. This guide covers how to use a vanity domain to build brand identity and attract website visitors. Also, learn how to create a vanity domain using a link management platform.
What Is a Vanity Domain?
Vanity domains are marketing-friendly web addresses usually named after a brand or person. Vanity domains can be a brand or person's main website address or the domain can be used as a base for a shortened vanity URL.
Vanity domains communicate the website destination clearly to an audience and can help increase brand awareness. They typically mirror the name of the brand or individual directly but can also be shortened versions of these brand names.
Brand strategist and author Lindsay Pedersen puts it like this: "When it comes right down to it, your audience's most scarce resource is attention. Brand building is all about making it easy for a potential customer to attend to your business, to your message."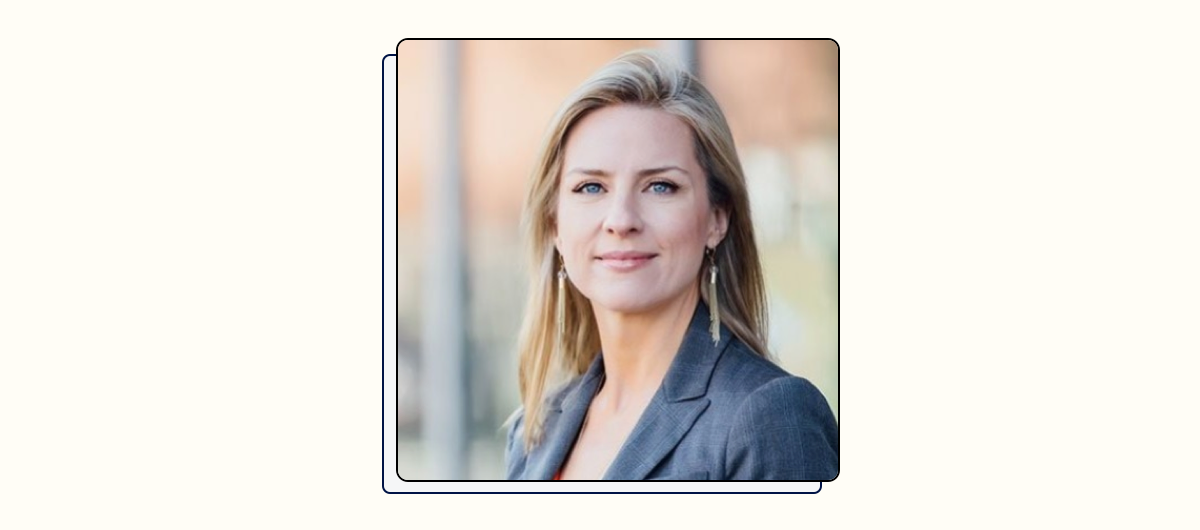 Pedersen continues: "The way that you do that is by demanding the minimum of their cognitive resources. The fewer cognitive calories you ask your audience to expand, the more likely they'll attend to you, remember you, and feel goodwill toward you. Vanity domains are one way to make it cognitively easy for your audience to attend to you. This makes it more likely that they'll remember you and like you."
It's no wonder that concise vanity domains with clear branding have become popular across the internet.
Examples of Vanity Domains
Vanity domains reflect a brand or person's name. Sometimes, businesses shorten their domains to create vanity URLs. Here's an example of both types: www.nytimes.com identifies the New York Times brand while the shortened version nyti.ms is the building block of vanity URLs.
A common misconception is that vanity domains only refer to shortened domain names that redirect to the brand's actual URL. However, you can consider any link containing the name of a brand or website to be a vanity domain, even if it's the exact domain name without redirection. It can be helpful to consider these links "vain" because they use the name of the brand or person.
Examples of that type of vanity name include:
You can shorten these vanity domains further to serve as the front part of a vanity URL. Vanity links do not lead to a unique URL but redirect to the original domain URL. The following examples demonstrate this type of vanity domain:
Vanity Domain vs. Vanity URL
Vanity URLs are shortened links that redirect to another URL. In comparison, vanity domains are any domain that represents a brand or person. Vanity domains usually reference the root domain (ta.co), whereas a vanity URL is the vanity domain and the slug (ta.co/belluminati).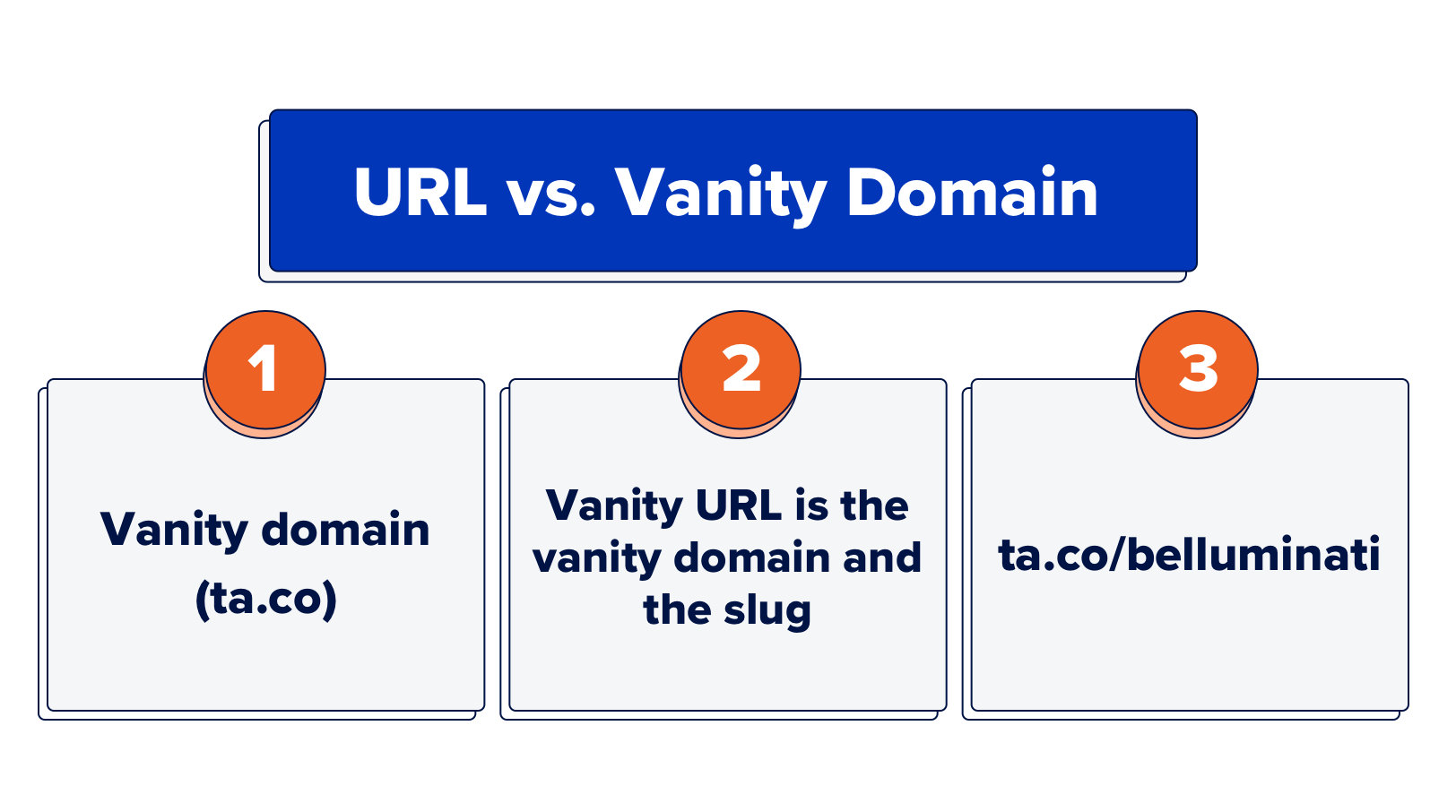 Many people use vanity domain and vanity URLs interchangeably, but they are not the same. Vanity URLs do not always link back to an organization's website. Companies can also use Vanity URLs to send people to online content associated with their brand. For example, Taco Bell wanted to share Lil Nas X's video that featured a Taco Bell restaurant. Taco Bell shared it on their social media as ta.co/lilnasx.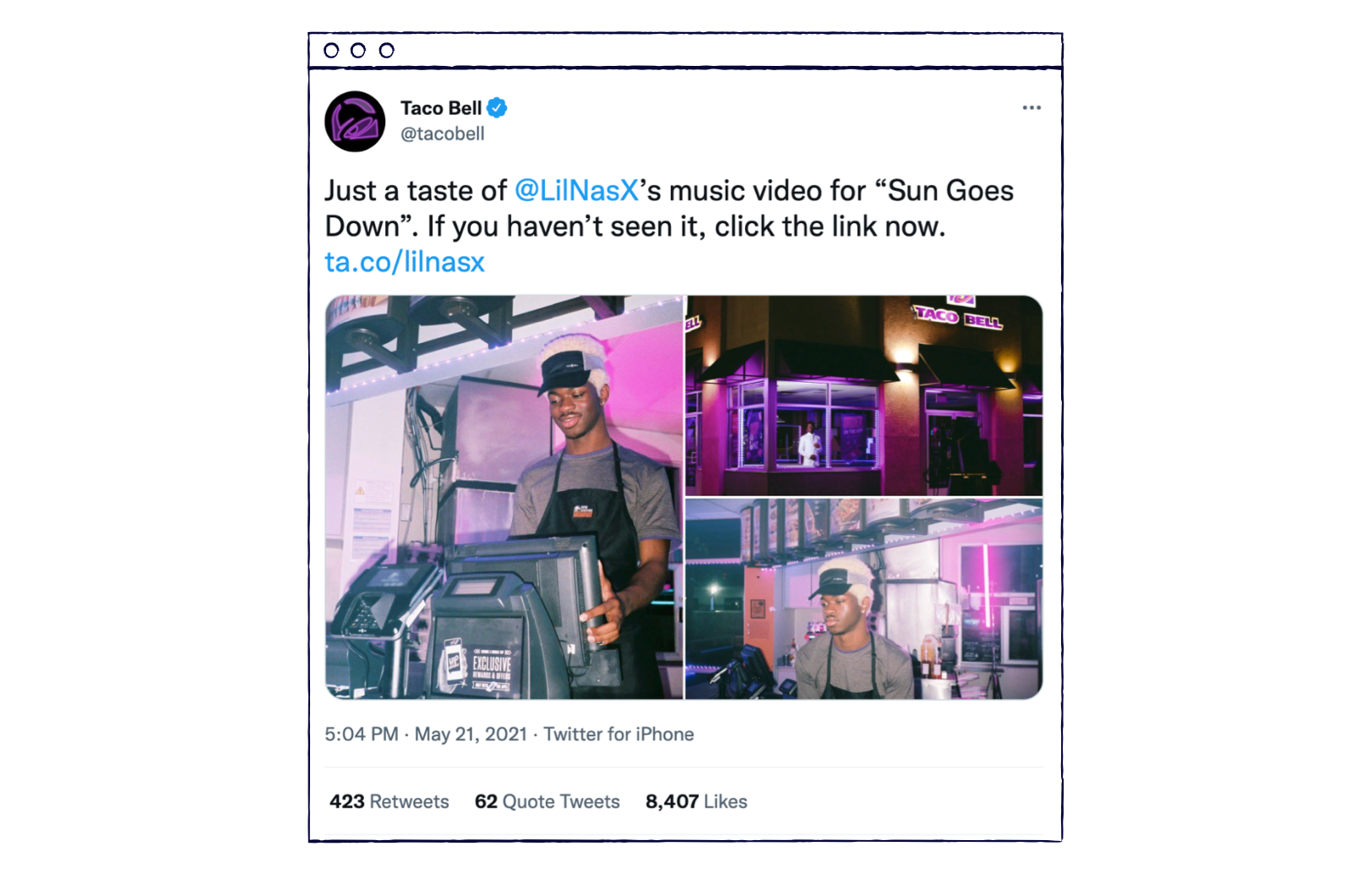 Examples of vanity domains and vanity URLs are all over the internet. For instance, ESPN uses its shortened vanity domain to promote stories on social media platforms like Twitter.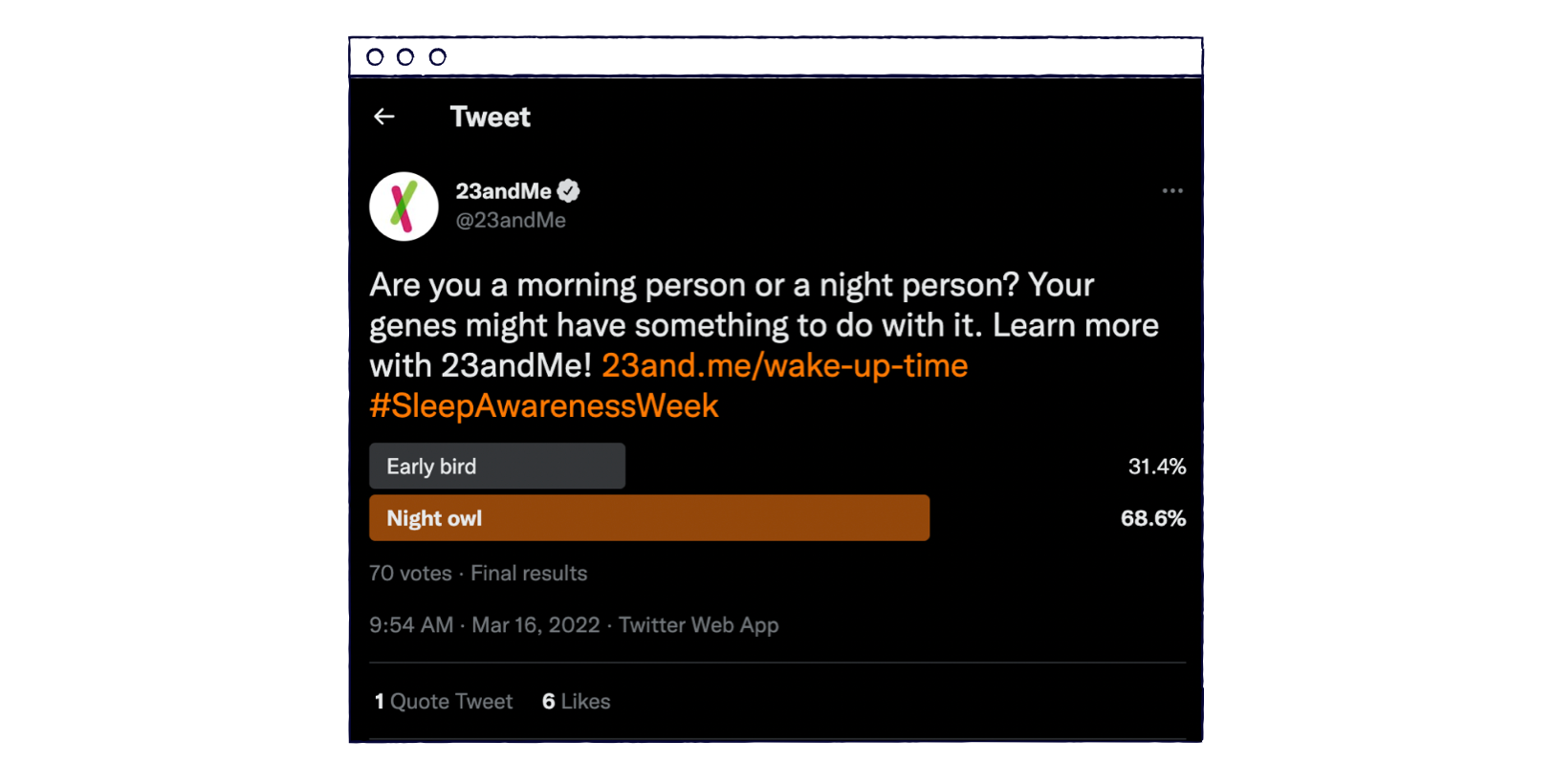 Vanity URLs always redirect to another page. Vanity domains can be shortened redirected links, like the above example of "es.pn", which leads to www.espn.com. However, they can also be stand-alone links. For instance, since www.espn.com communicates brand identity, you can also consider it a vanity domain.
However, vanity URLs are attractive and cleaner URLs that redirect to a more complex web address.
For example, we can shorten the URL "https://www.tacobell.com/day/?gclid=CKShzbrMwc8CFcJZhgodjEABKQ " to the vanity URL https://ta.co/Day.
To summarize, a vanity domain is the root domain or foundation of vanity URLs. That said, vanity domains can also be a stand-alone link, while vanity URLs always redirect to a different URL.
What Is the Purpose of a Vanity Domain?
Companies use vanity domains to create concise, memorable branding for their websites.  For example ebd.world leads to eyebuydirect.com and tbtim.es leads to tampabay.com.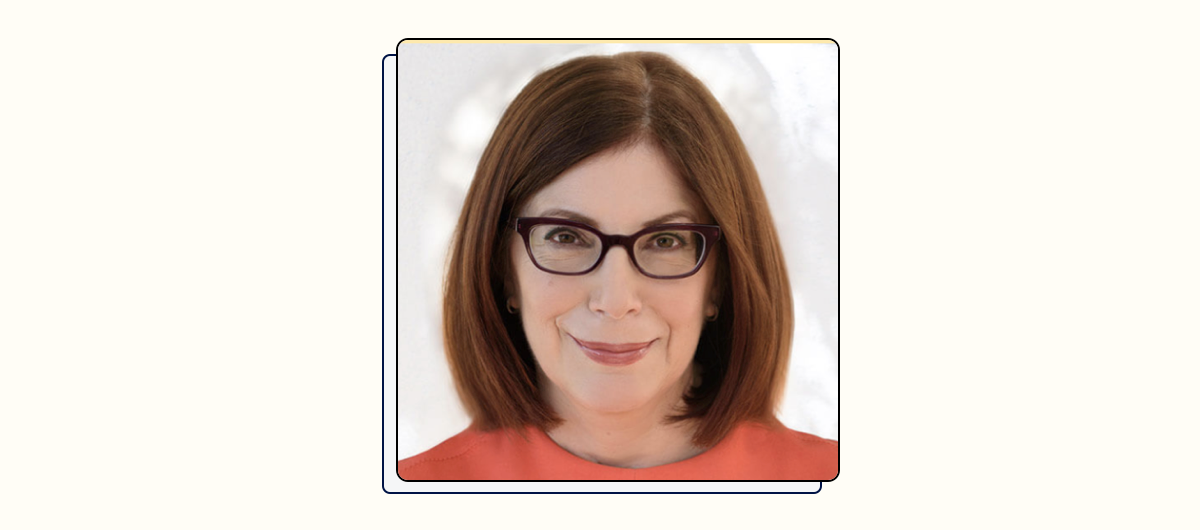 "Vanity domains should be an integral part of marketing strategy and be discussed when creating campaigns for advertising or social media," says Anat Baron, brand builder, futurist and keynote speaker. "That way, they can help not only on the front end by creating easy-to-remember links for customers, but also provide tracking information so that you can measure results based on the specific vanity domains used."
She continues, "Vanity domains are more memorable and deemed more trustworthy and can help generate more clicks and therefore deliver more eyeballs to the product or message."
Reasons to Create a Vanity Domain
Vanity domains create a strong brand identity and inspire consumer trust. They also generate valuable tracking analytics, serve as a base for vanity URLs, and expedite the lengthy process of creating a new domain name.
Here's a detailed list covering the main reasons to use a vanity domain.
Improve time to market:  A company's IT department must get involved when a company creates new domain names or ties another website to its landing page. However, you can bypass this time-intensive process by using a vanity URL that shortcuts to a pre-existing URL. This is easy to do with link management software or by registering the vanity domain yourself and speeding up the website's time to market. For brands with long names, vanity domains can be a helpful way to create a shortened version of your domain name without going through the arduous process of changing your original domain or brand.
Increase brand awareness: Concise links will immediately engage your audience and quickly draw their attention. It also makes it easier for customers to talk about your brand, expanding your consumer reach. Some individuals use their vanity domain as the end of their email to further emphasize their brand in communications. An example is the fictional "john@johnsmith.com."
Create customized vanity URLs: One of the most common reasons to create a vanity domain is to have a custom homepage from which you can create branded vanity URLs. Starting a vanity URL with a unique domain name relays professionalism and brand identity to the customer. Reputable URL shortening websites give you the option to create a customized domain name that you can use as the beginning of your vanity URL. For example, the New York Times uses Bitly to create vanity URLs. However, instead of using the generic "bit.ly" that starts some Bitly vanity URLs, they use "ny.tims." So, the vanity URL "bit.ly/123" becomes "ny.tims/123," which communicates its brand quickly and efficiently to consumers.
Use in print ads: Since organizations design vanity domains to be memorable, they can be helpful in traditional advertising. For example, if Disney wanted to create a billboard that advertised a new show on their streaming service, adding a complex webpage to the ad would be difficult for people to remember. In contrast, a link like "disneyplus.com/newmovie" can be read and remembered quickly.
Precise tracking: Since you can use vanity domains in unique campaigns, like print ads, their analytics give insight into how much traffic you generate from these campaigns. In addition, most URL service providers offer tracking and analytics so you can follow essential data like traffic patterns and the number of clicks. This information will allow you to tailor future campaigns to your target audience better.
Specific campaign marketing: Vanity domains can provide a call to action to send a customer to a particular location. For example, suppose the fictional running shoe company "Stallion" hoped to advertise a race they were sponsoring. In that case, they could create the vanity domain "Stallion.Run" that could lead consumers directly to a signup page. This clear messaging simplifies the steps a user needs to find the webpage, making it more likely they will sign up.
Help SEO: With planning and consulting with your SEO team, you can use vanity URL SEO strategies like incorporating keywords into your links.
Vanity Domain Vs. Changing Your Domain
Changing your domain can be a time-intensive process that brings permanent consequences for brand strategy and marketing. Vanity domains that redirect to your website can provide the perks of a new domain name with much less hassle. 
In today's internet-centric marketplace, choosing a domain name is synonymous with choosing a brand name, a fundamental task that can spell success or disaster for a new business. Generally, choosing a domain name incorporates many departments and can take months of coordinated effort. Instead of redoing this process, companies can use vanity domains to reinvigorate a brand without changing their domain name.
When You Should Not Use a Vanity Domain
Don't use a vanity domain if it may cause brand confusion. The fact that you have one good vanity domain doesn't necessarily mean you should create others. Also, consider that your link will no longer work if your provider ceases operations. Also use an established, secure link management platform.
Brand strategist and author Pedersen mentions, "If you are using a third party to give you a shortened vanity URL, you may be counting on that provider to still be around. Vanity domains work best for more ephemeral URLs, like call-to-action pages or landing sites for one-time events."
If you hire a provider to create a vanity URL, ensure the service provides an SSL certificate for your links. These digital certificates authenticate a website's identity and encrypt all the information sent to the server, protecting the user's data. All websites that use HTTPS have SSL certificates.
"With over 600 million bit.ly links created each month that generate billions of clicks, Bitly understands that we must safeguard the security of our customers and their customers alike," says Bitly President Raleigh Harbour. "That's why we created a security upgrade that helps prevent malicious activity. Importantly, it will give our customers more credibility with their users, especially those who conduct transactions via our links. All our domains and links come with secure HTTPS as a standard with Bitly provided SSL certificates and HSTS."
"With about 200 million bit.ly links created each month that generate tens of billions of clicks, Bitly understands that we must safeguard the security of our customers and their customers alike," says Bitly CTO Raghu Srinivasan. "That's why we created a security upgrade that helps prevent malicious activity. Importantly, it will give our customers more credibility with their users, especially those who conduct transactions via our links. All our domains and links come with secure HTTPS as a standard with Bitly provided SSL certificates and HSTS." Overusing vanity domains can water down their unique utility. "There's no reason not to use a vanity domain, but it should be something that's done purposefully," notes brand builder and marketing keynote speaker Baron.
Following that advice, consider that vanity domains make the most significant impact when your link does not.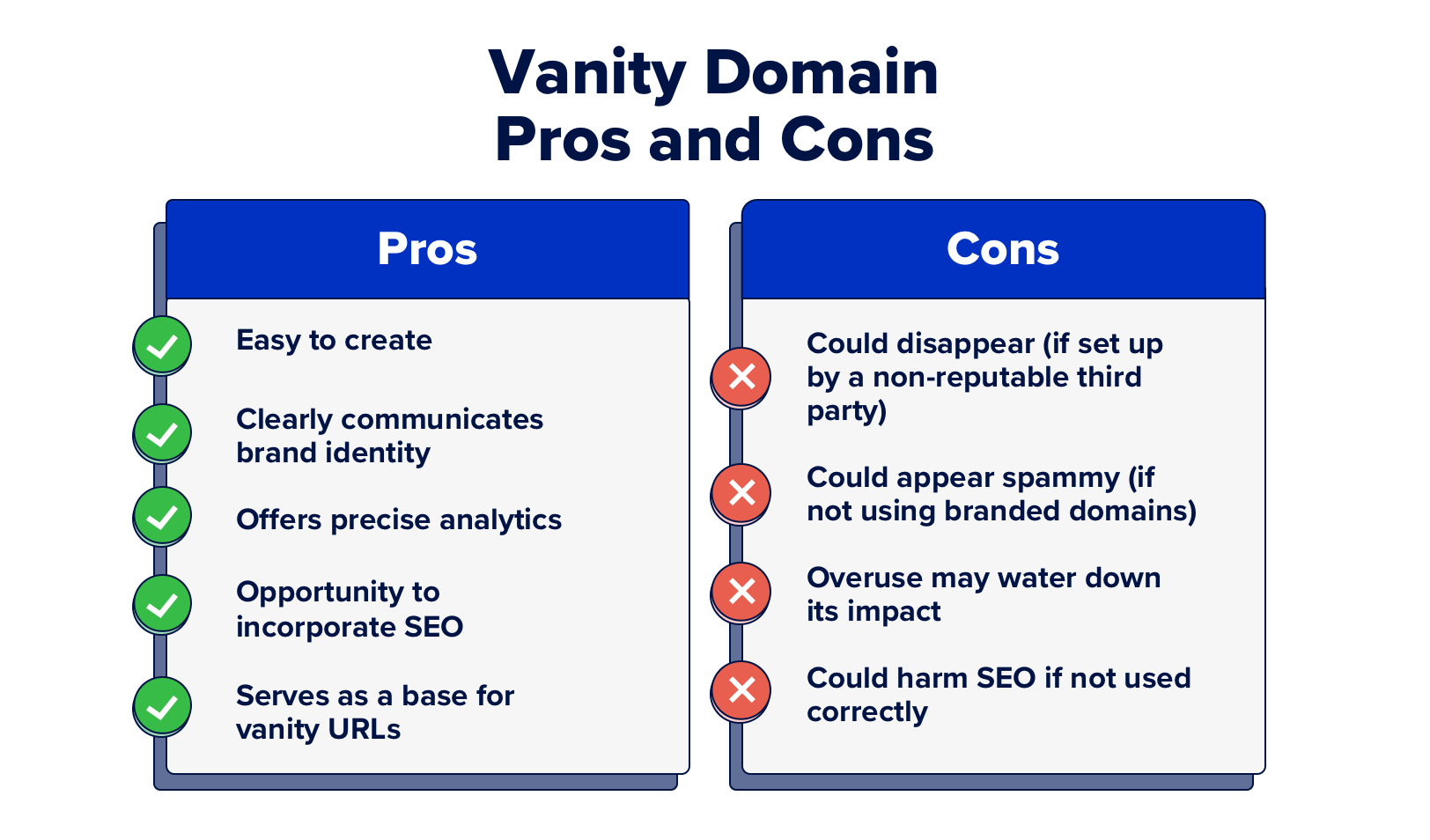 How to Choose a Vanity Domain Name
Choose a vanity domain name that memorably reflects your brand or you. This decision is similar to choosing a brand name. Select short, easy-to-pronounce words, and consider the advertising implications of your domain name. 
The basics of choosing a vanity domain name can be simple. Brand strategist and author Lindsay Pederson sums it up nicely: "Practice good naming hygiene. In today's world, most common English words are already being used online, so you might have to make up a word. In this case, think back to cognitive load – make it easy for people to spell and say your domain name. If someone is embarrassed that they are going to mispronounce your website or brand, they will hesitate to give word of mouth to your business."
Go through the following checklist of these and other domain name tips before you commit to a name:
Make your domain catchy, easy to pronounce and easy to spell. In addition, intuitive domain names should be easy to remember. 
Don't use special symbols like dashes.
If your domain has multiple words, capitalize the first letter of each word. This practice makes the link easier to read.
Ensure the domain communicates the value of your brand and makes the website destination clear to the audience. 
Make it an offshoot of your brand name or replicate your brand name if it is short.
Consider how the domain will appear in traditional, print advertising. Make sure any interested consumer can remember it with just one quick skim.
Vanity Domain Name Extensions
When selecting a vanity domain, also focus on the extension that ends the link. For example, although ".com" has led the internet for decades, custom domain name extensions offer another branding opportunity.
TLDs (top-level domain) refer to the last part of the domain name after the "dot" sign. Here are the three types of major TLDs:
Generic TLDs include the most used extensions, like ".com" and ".net." As of 2022, companies and individuals have registered more than 1,200 generic TLDs that are live on the internet. Some common examples of new domains include ". blog," ".tech," and ".store."
Sponsored TLDs appear on websites for specific organizations like governments (".gov") or universities (".edu")
Country TLDs appear on websites for specific countries like ".eu" for the European Union and ".gr" for Greece.
Unless you create a website for a government, university or country, you will select from generic TLDs. Although some custom domain extensions might be less easy to remember than the tried and true ".com," they provide a new chance for branding.
Additionally, unique extensions can salvage domain names that may not be available with the famous ".com" ending. For example, if Sally wanted to create "sally.com," she may find the link already used. However, there is a good chance that "sal.ly" may still be available.
Here are some examples of companies using creative, unique vanity domain name extensions.
Virgin airlines – virg.in
New York Times – nytim.is
ESPN – es.pn
LinkedIn – lnkd.in
If you still cannot find a domain extension that fits your needs, you can apply for a new one with the Internet Corporation for Assigned Names and Numbers (ICANN.)
How to Create a Vanity Domain
How you set up a vanity domain depends on your intent. To create a stand-alone website, like a brand's first homepage, register your domain name at any domain site and build your page. To create a vanity domain with vanity URL redirects, use a link management platform like Bitly. 
Although some IT departments can handle the task of redirecting shortened vanity URLs to another website, most marketing professionals use a link management platform to create and manage vanity domains that shortcut to other websites. You can also purchase a vanity domain through another website and sync it with link management software to quickly start creating vanity URLs.
How to Set Up a Vanity Domain Using Bitly
To create a standout vanity domain and build your brand, you need a reputable provider. Use Bitly and gain access to the best analytics and security so you can create and track vanity domains with ease. 
Bitly makes it easy to set up a vanity domain name, but you'll need a Basic Bitly account at a minimum. A Basic account allows you to have one vanity domain. Follow the step-by-step instructions below to get started.
1. Before you can begin creating custom domains, you'll need to sign up for a Basic Bitly account. Head over to our homepage and select "Sign up Free"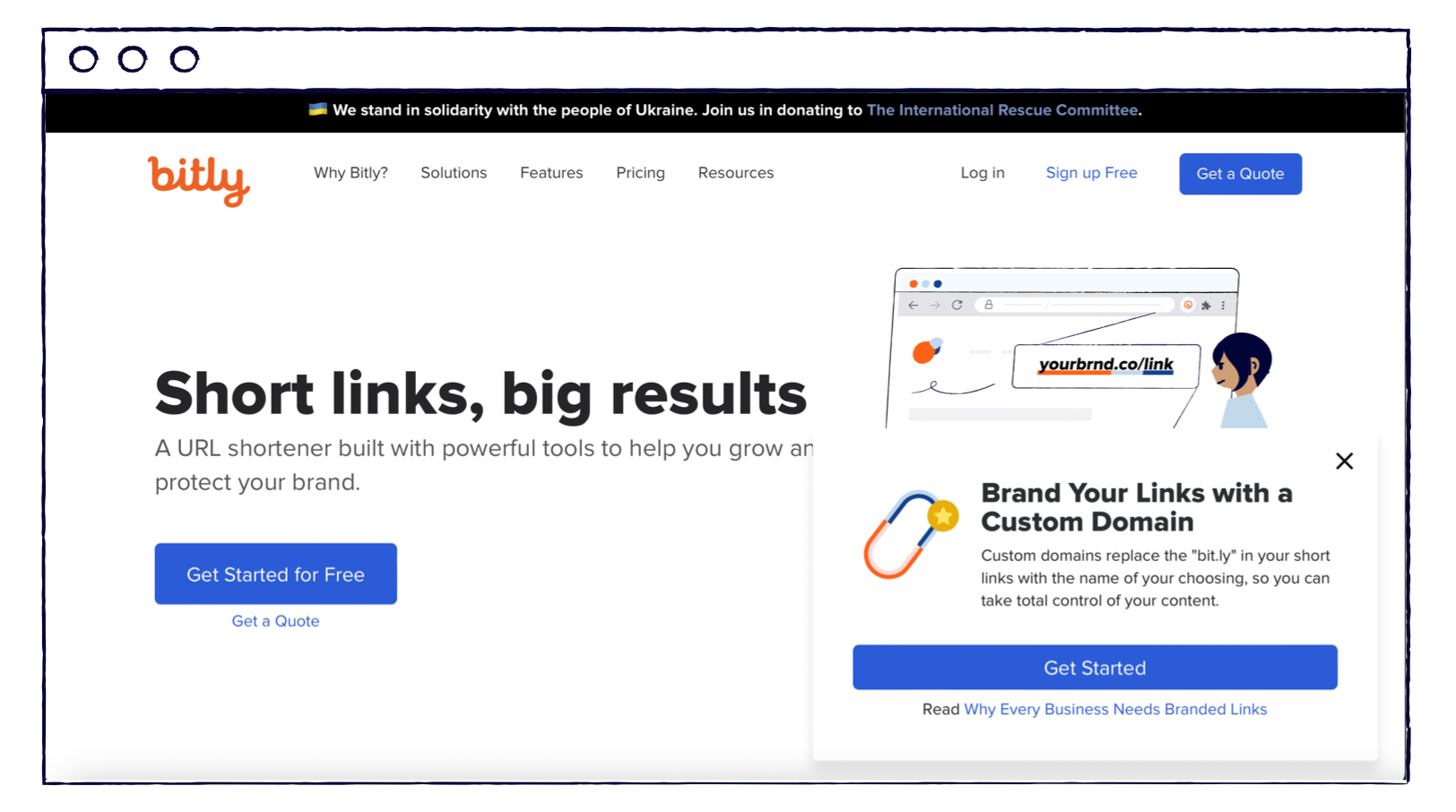 2. You'll be directed to our pricing page where you'll select the Basic plan.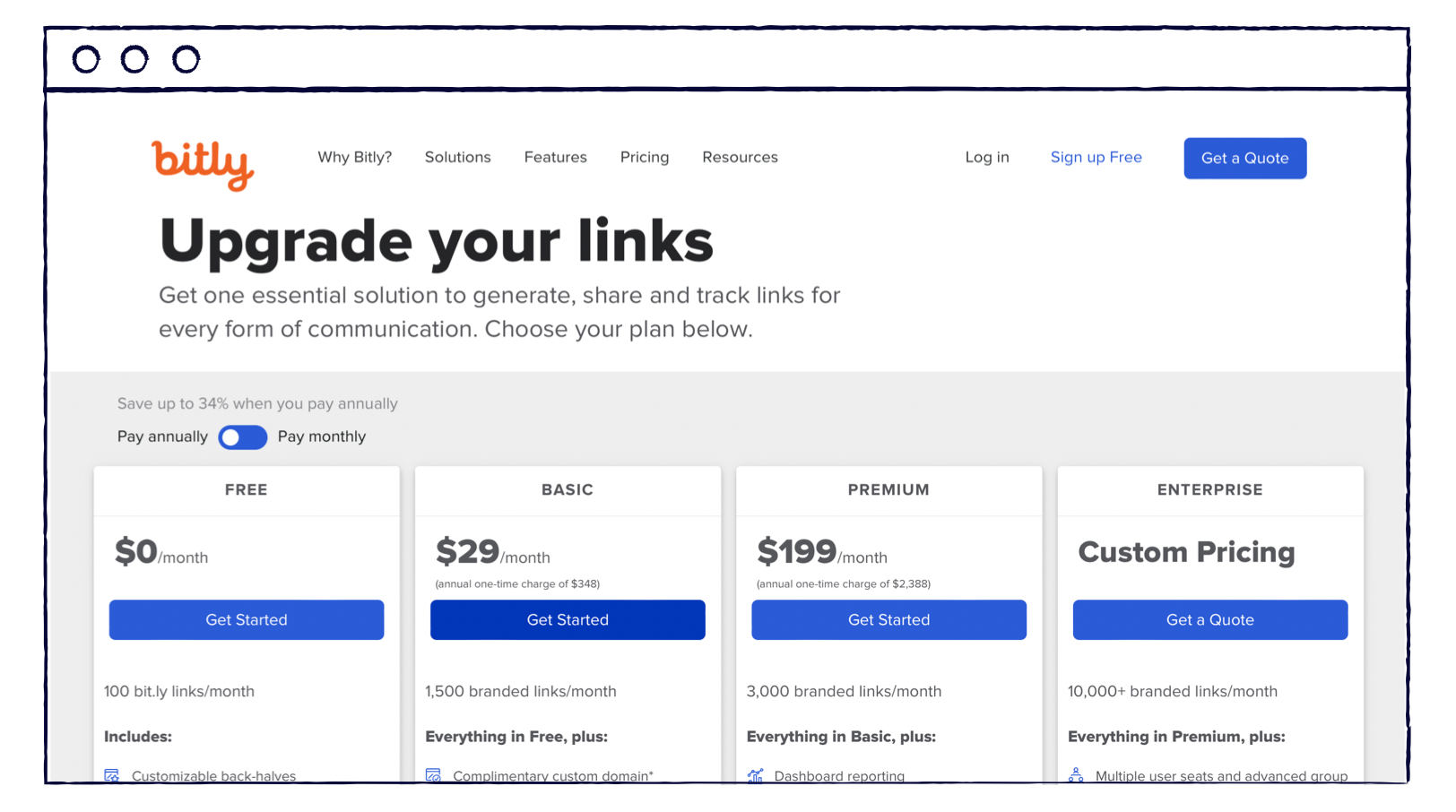 3.  Create your account by signing up with your email.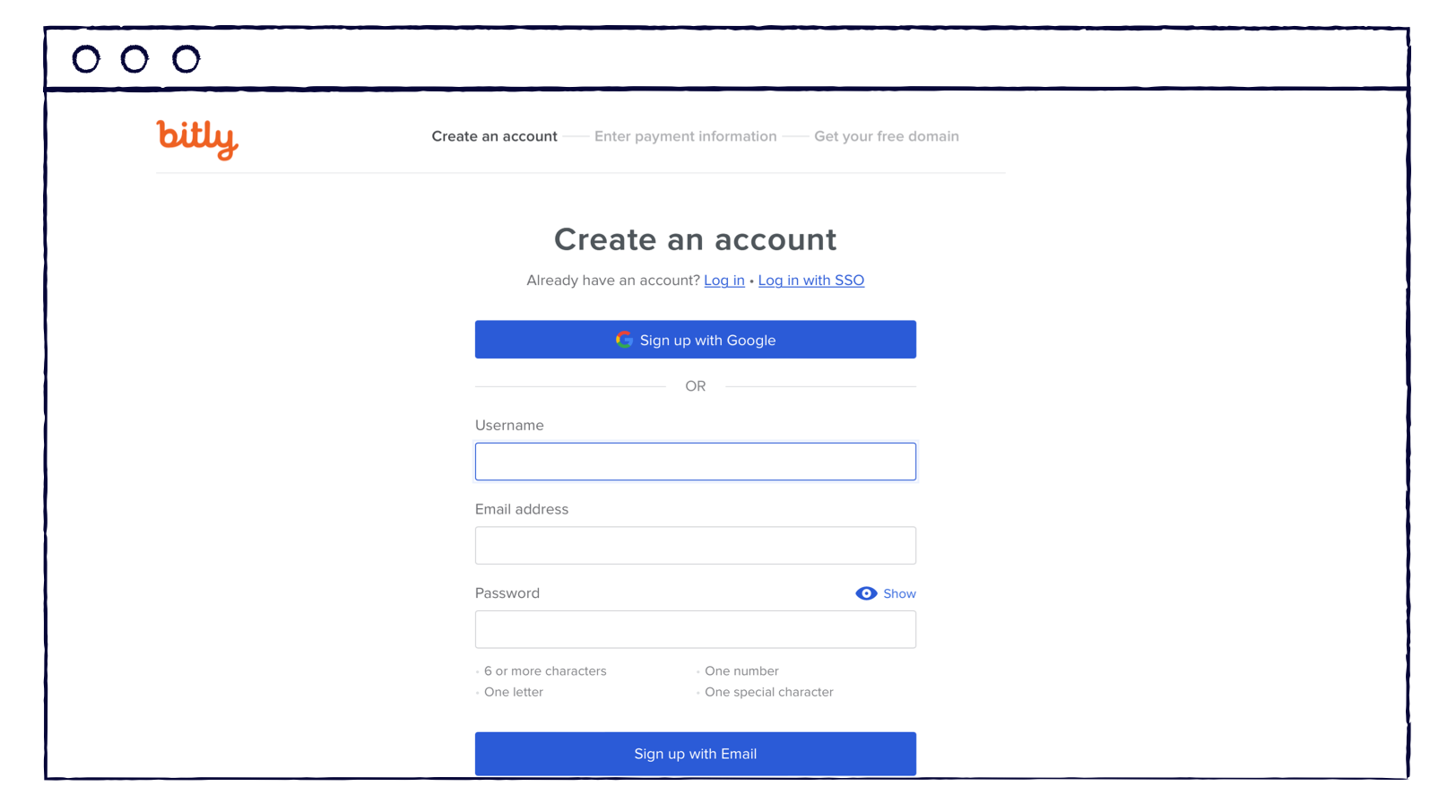 5. Enter your payment information through our secure portal.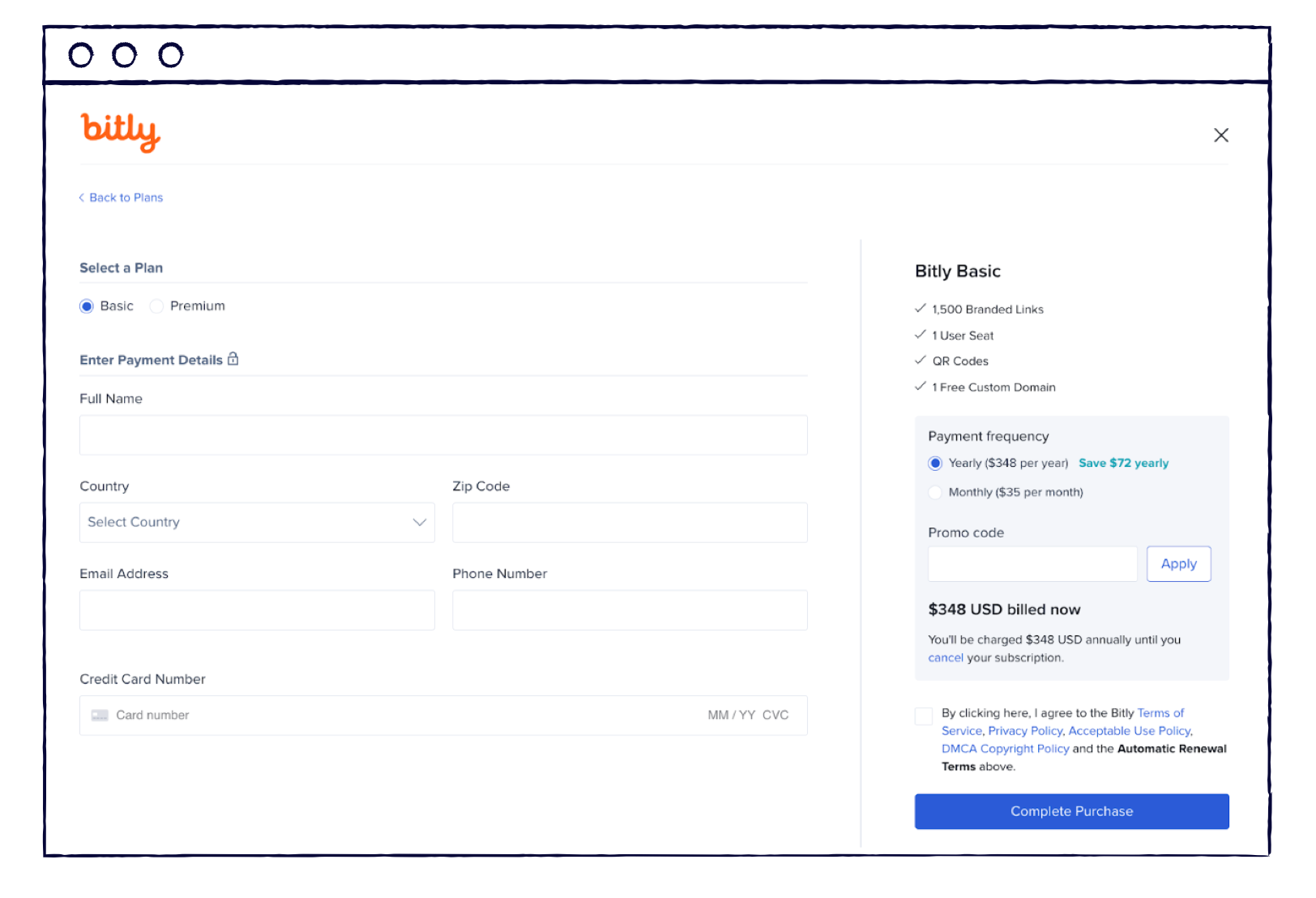 6. Now it's time to start creating your free domain!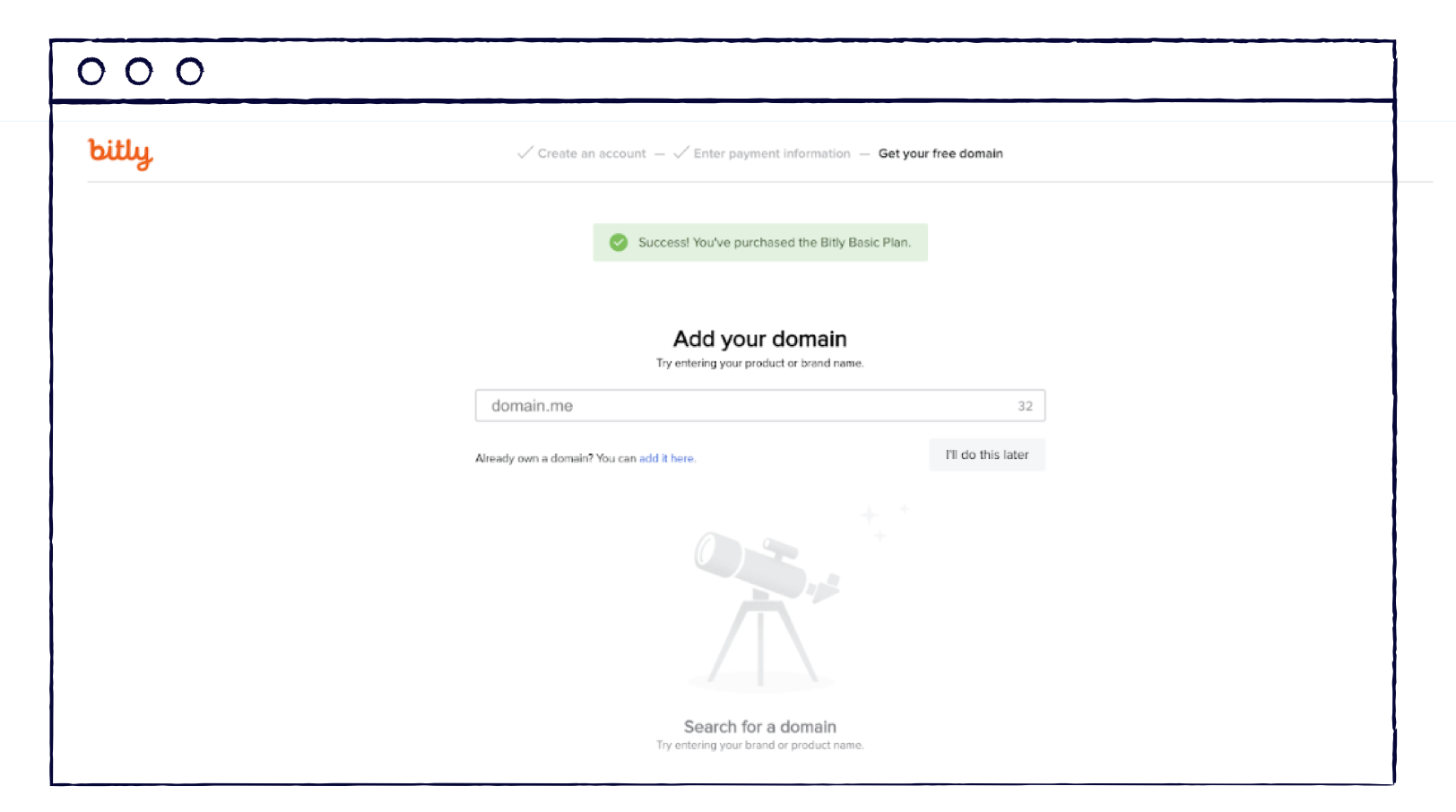 Log in to your Bitly account. Click Custom Domains in Account Settings. A screen will appear where you can add your own domain.

2. Click the blue Add Custom Domain button and click the orange Next button. If you already have a vanity domain name registered, click on Add Domain. You can also get a vanity domain from Bitly. Click Get a Domain from Bitly to do so.

3. We're going to use Bitly to get a domain. Type what you want to use as your vanity domain in the box.

4. Select the domain you want and click Confirm. Now, you have a vanity domain. Note: The company will own the use of the domain.

Bitly makes it easy to create vanity domains, and it provides real-time analytics with comprehensive metrics like click-through rate. These invaluable analytics give you the tools to tailor your links to your desired audience. Bitly also seamlessly integrates with the most important social media and digital marketing tools so you can quickly and easily create links at scale. In addition, every link you create on Bitly automatically comes with HTTPS encryption that keeps your content safe.
Create your vanity domain with Bitly today and start building shortened URLs with some of the world's biggest brands like ESPN, Disney, Buzzfeed and The New York Times.